Teenie Tots Childminding may have only been open for a matter of months but owner Christine Brown has a wealth of experience.
For the past nine years, 26-year-old Christine has been working in nurseries around Tayside while gaining a number of qualifications including a Higher in childcare and an SVQ 3.
She has now set up her own childminding business using a building in the back garden of her home in Kirriemuir to create a mini-nursery and become her own boss.
She said: "I went to Dundee and Angus College for three years after leaving school and completed my intro to childcare, an Intermediate II and a Higher.
"Since then I have worked mainly in private nurseries. I had been in childcare for about nine years before I decided to open Teenie Tots.
"Just before I started the childminding I was working at the High School of Dundee nursery so I do have a lot of experience.
"I always thought I would just work in nurseries but I wanted to be at home with my kids when myself and my husband Scott start a family so it seemed perfect.
"If you had said to me before that I would have my own business by the age of 26 I would never have believed you, so it feels amazing that I have been able to do it.
"It is a massive achievement and everyone is really happy.
"Scott was a bit sceptical about it all to begin with but now he is over the moon with how it is going.
"He has been a great support and helped a lot with the building side of things."
Teenie Tots is completely full with 10 kids visiting throughout the week.
Some parents even booked their child's place a year before the doors opened in August.
Christine added: "People say it is great that I do so much with the children, including little trips, but it is just second nature to me doing lots of different things within a nursery setting.
"My job is different every day which I love and I like to keep it entertaining for the kids so they don't get bored as some of them are here a lot of the week.
"I feel a sense of happiness when I tell the parents what their child has been doing and learning that day and I am always sending them pictures to keep them updated."
'I couldn't see myself doing anything else'
If, like Christine, your ambition is to work in the childcare industry, there are a number of courses at local colleges which can get you on track for your dream vocation.
Dundee and Angus College has a number of courses ranging from NC early education and childcare to HND in childhood practice.
Christine said: "If anyone wants to go into childcare, I would definitely recommend going into further education at college.
"This is such a rewarding job – especially when you are the one teaching the kids something new each day.
"I couldn't see myself doing anything else now and I love the business that I have created here.
"I worked very hard to get here but now it is all worthwhile seeing the finished product."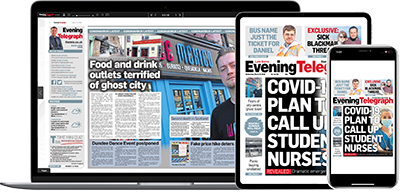 Help support quality local journalism … become a digital subscriber to the Evening Telegraph
For as little as £5.99 a month you can access all of our content, including Premium articles.
Subscribe