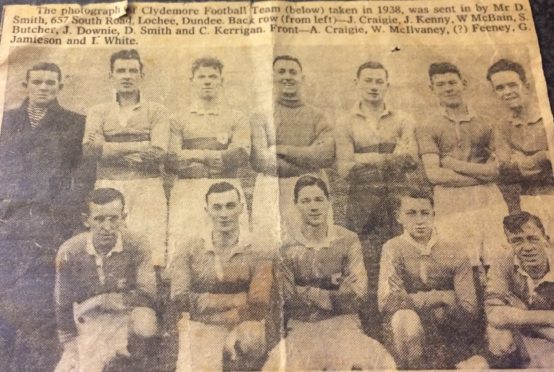 Irene Perry sent in a photo cutting of a local football team — and I have to admit it's a club I have never heard of.
It contains a couple of her relatives.
"I love to read Blether with Brown every Saturday in the Tully," opened Irene, of Stobswell, Dundee.
"I cut out the enclosed picture (above) years ago as it contained my dad Andrew Craigie and my uncle James Craigie.
"The team is called Clydemore FC and it is from 1938.
"I wondered if you knew any information on this team?
"My dad and uncle were brought up in Lochee, so I thought maybe it was a local team.
"My dad was 25 at that time and my uncle James was 22, but they look a lot older!
"Any information, or if you can find any pictures of their team, I would be most grateful."
Irene, who described herself as a 62-year-old granny of five, revealed another family football connection.
She continued: "My husband's cousin Tommy Cavanagh was a coach at Manchester United under Tommy Docherty and Dave Sexton.
"He was also a player himself in a few teams, but I was sure it was just Scottish teams."
Liverpool-born Cavanagh was a team-mate of Docherty's at Preston North End and joined up with The Doc when he got the Old Trafford job.
He had also previously played for Huddersfield, Stockport, Doncaster, Bristol City and Carlisle.
He was also a manager in his own right at Cheltenham, Brentford, Rosenberg and Burnley.
Tommy died in 2007, aged 78.