Teaching children all about the weird and wonderful creatures of the world is what Dundee woman Alison Stoddart enjoys most as she runs her Eden's Garden animal parties.
Alison's obsession with reptiles, insects and other pets started to develop in 2011 when she needed a pal for her daughter's tortoise.
Quickly realising her collection of pets was expensive to keep, the primary school teacher decided she needed to find a way to provide for the animals – and her family.
Alison, based in Broughty Ferry, said: "My daughter had wanted a pet tortoise for months so we created tortoise tokens that she then had to earn.
"It took her quite a few months to reach the required amount of tokens and every week I would take her to pet shops to look at the animals.
"At first I was scared of reptiles such as bearded dragons but the more often I went and got to hold the different creatures I learned so much about them.
"After getting her pet I realised that there was so many animals being sold online that needed a home and I thought if I don't take them then what is going to happen?
"I now have a lot of different species of reptiles, insects and classic pet animals such as rabbits. Before I got any pets I thoroughly researched what I needed to do to care for them correctly.
"Since starting Eden's Garden Party in 2011 I have travelled around the area educating children – and quite often parents – on all the different animals and also about how hard it is to care for some pets.
"A lot of people think rabbits are easy pets to care for but in fact they can be pretty difficult and rabbits are not good pets for young children.
"So not only is going around showing kids cool animals lots of fun, they also really learn about taking care of them.
"The kids are always amazed and ask really good questions."
But it is not only children and their parents who enjoy the parties, Alison also travels to care homes around Tayside and Fife.
She said: "It is great taking the animals, especially the more classic pets, to care homes.
"The residents absolutely love giving them a clap and letting them feed out of their hands.
"I think it really brings back memories of them growing up."
Some pets stand out from the crowd
One pet is often hard enough to take care of but Alison has more than 20 species of animals.
Each day every one is handled at least once by Alison or her family to make sure the animals stay used to being around people.
However, when it comes to crowd-pleasers at the parties, there are some standout favourites.
Alison said: "The kids usually love our collection of snakes and also our Yemen chameleons, Pascal and Mini.
"They love feeding the chameleons and seeing all their different colours.
"At the moment they absolutely love our micro squirrels as they are tiny and very cute.
"I have to say though our hedgehogs are always a crowd favourite."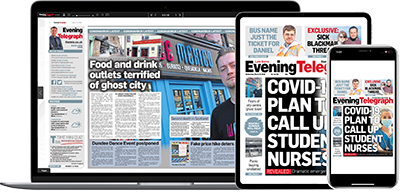 Help support quality local journalism … become a digital subscriber to the Evening Telegraph
For as little as £5.99 a month you can access all of our content, including Premium articles.
Subscribe