Vintage clothes are back in fashion thanks to Amanda Davies' new store, Oh Hello Vintage, in the city centre.
The shop on Exchange Street opened in early August, just three weeks after the idea came about.
Amanda said: "My husband Richard already owned the unit as he owns Hard Grind and Abandon Ship Apparel.
"When the unit became empty we had to make the decision if we were going to keep it or sell it on.
"It was actually my mother-in-law who said I should open my own vintage shop.
"I have loved vintage clothes for as long as I can remember and had always dreamed of having my own place.
"I also felt that a vintage store was something that Dundee was really missing and being in Exchange Street is great as it is sort of the 'downtown' of the city."
Amanda grew up in Glasgow before moving to Manchester to study Garment Technology. She then moved to London to work as a trainee buyer with Next and progressed to assistant buyer before moving back across the border and settling in Dundee two years ago.
Amanda's hopes are that the store will not just sell clothes but it will also serve as a community space.
She added: "From the start I wanted it to be really inclusive. I want this to be a safe place for everyone no matter what you look like, what your gender is, you can come here and feel welcome.
"We don't just sell feminine clothing we also have a range for men of more masculine clothes and I also sell independent brands such as Dreamland Clothing, vegan skin care products, homeware and art pieces created by local designers.
"We will also soon be holding several workshops including calligraphy classes and embroidery workshops and on September 22 we are holding a pride party to help celebrate Dundee's first-ever pride."
When it comes to inspiring others who may want to follow her path, Amanda advises to get experience and if you want to open a store make sure you are passionate about your work.
She said: "You work for the most part of your life, so there is no point in doing something you don't enjoy.
"No matter what you want to do, go out and get as much experience as you can."
Stock comes from variety of sources
When it comes to gathering her stock Amanda loves looking through people's wardrobes.
She said: "I have sourced a lot of my stock through people I know or who have contacted me through social media.
"There have been a lot of people who have come to me and asked if I wanted to have a look at their vintage clothes collections as they needed to downsize.
"One older lady had kept all of her clothes since she was 17 and I was amazed by all the clothes she had.
"I also sell some of my own work in the store too, but I do find it very hard to let go of anything I have made, which isn't the best business plan.
"I will also be putting all the clothes online, too, so people can purchase them from my website."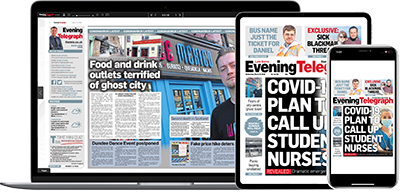 Help support quality local journalism … become a digital subscriber to the Evening Telegraph
For as little as £5.99 a month you can access all of our content, including Premium articles.
Subscribe