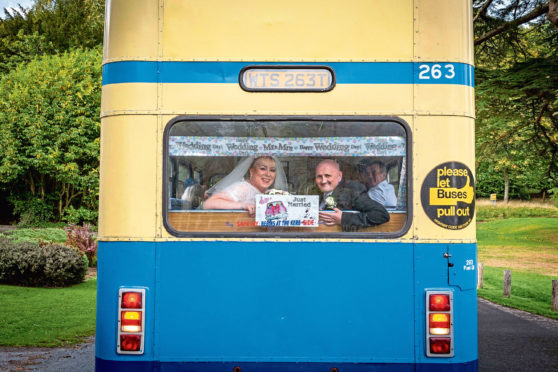 After an eight-year engagement, it took just five weeks for Dundee bus drivers Kevin Lowden and Dawn Brownlie to plan their big day.
Kevin, 52, and Dawn, 45, met in 2010 through their work with bus company Xplore.
Although they would soon be driven madly in love, Dawn, from Tealing, admits her first impression of Kevin was not positive.
She said: "I thought he was arrogant because he never spoke but when he eventually decided to chat to me I thought to myself, 'oh, I quite like him'."
Kevin, originally from St Mary's, added: "I had noticed Dawn before and was definitely interested in her. That is probably why I never talked as I was nervous."
When a colleague found out about the mutual interest, she channelled her inner Cilla Black and set them up.
After their first date, Kevin and Dawn were inseparable and within six months they were engaged and living together.
Kevin said: "We had been shopping one day and Dawn pointed out an engagement ring that she loved as it was so unique.
"I waited until she went into another shop and went back to the jewellers and bought it.
"That was in August and it was meant to be her Christmas present but I couldn't keep it a secret so I got down on one knee in the house.
"Dawn said yes straight away, despite being a bit shocked."
After the lengthy engagement, a barbecue and a few drinks this summer led to the frequently asked question from the couple's pals: "When are you two going to get married?".
With a holiday booked for September, the bride-to-be joked: "Who knows, maybe we will just do it while we are off."
Kevin decided to move things on and booked the registrar's office for September 14 – just five weeks later.
Dawn said: "Once the date was confirmed, it was mayhem.
"We were offered a vintage bus as our transport by Tay Bus Vintage Vehicle Society and I was really up for it but Kevin point-blank refused. We then realised that our wedding day coincided with the opening of the V&A so the only way we were getting to our wedding was on the bus driven by our good friend Stevie Reid. He was amazing all day and acted like our taxi driver.
"I am so glad now that we had the bus as it was such a laugh.
"We got some funny looks driving down the dual carriageway in it.
"Everyone on the streets was waving and my bridesmaid Jennifer Turner started a confetti fight.
"I had my bus driver head on and told her she couldn't do it but when she asked Stevie he just laughed and it turned into confetti chaos. It was amazing."
Kevin added: "Although I didn't want the bus to begin with, I was so happy with it on the day. It was very cool and a great laugh."
Kevin was joined by pal Paul Turner as best man, admitting he has too many male family members to have had to choose from them.
The couple said "I do" in the registrar's office in the city centre before having a meal with close family and friends and hitting the Fairmuir clubbie at night for an unofficial reception.
Dawn said: "One of Kevin's sons lives in Australia and couldn't make it to the wedding so we decided we would wait until he is home next year before having a reception.
"Instead we went to the Fairmuir clubbie, where we go every week, and they made it so special. Even the band, Scotland Rocks, pulled us up on to the dancefloor and gave us a first dance. I can't thank the club enough for making it an even more special day."
The happy couple would also like to thank good friend and former colleague Gordon Baird for his photography skills, David Murdoch who created the wedding cake and Flowers by Dawn who made the bouquets.
Dawn added: "I may have only had five weeks to organise the day but I wouldn't change a thing."