From a four-year-old to a 77-year-old, the visitors to Dundee Music Academy's opening weekend found age doesn't matter when it comes to learning an instrument.
More than 150 people took up the offer of free music lessons to launch the Academy at Dundee Music Studios last weekend.
"The aim was to inspire the people of Dundee and highlight the amazing benefits of music," organiser David Gourlay said.
"We were very happy with the turn out and the mix of ages was fantastic, from the youngest being four to the oldest 77, we had a great time with a lovely group of people.
"Each person was given the opportunity for free to try as many music lessons as they wanted in guitar, piano, drums, bass and singing."
He said the feedback had been great, with lots of the people who attended booking in the following week for lessons.
"But the most important thing for us was seeing the enjoyment and happiness people felt whilst taking their lessons," he said.
"Our team of tutors had a great weekend passing on some of their knowledge and after 22 hours of teaching for free they all agreed that they found it so rewarding that they would do it again!
"So we have decided that we should host this type of event numerous times throughout the year.
"In fact we noticed that lots of people missed out on the chance to get a free music lesson due to prior commitments and variety of different reasons so we want to offer everyone at any time the chance to book in a try a first lesson for free with any of our tutors."
He said the benefits of playing music were "incredible".
"Everyone loves music, it's one of life's greatest gifts but few know just how mentally, physically and emotionally rewarding it is to play an instrument.
"Playing an instrument increases memory, enhances coordination, teaches discipline, perseverance and patience, builds confidence, sharpens your concentration, relieves stress and allows self-expression, it creates a sense of achievement as you develop your ability, and there are so many more benefits but most of all, it's make you happy and everyone deserves to feel happy," he said.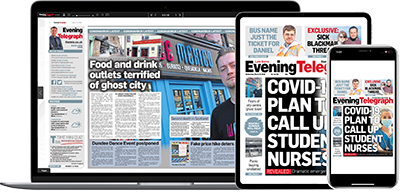 Help support quality local journalism … become a digital subscriber to the Evening Telegraph
Subscribe