It was 1984 when classic car collector David Hocking first bought the Austin Min Cooper 'S' sitting outside his house.
But after he sold it in October 1985, it took almost exactly 26 years for it to come full circle back to him.
David said he always had an interest in cars and motorbikes but didn't buy his first classic car until 1981 when his and his wife Maureen's children were older.
"When you were younger and first married you couldn't afford to buy a second car, a classic car," he said.
"As the family grow you then find you find you have a little more finances to indulge," Maureen added.
He first bought the Mini Cooper 'S' on July 20, 1984 before selling it to a man in Meigle on October 9, 1985, but it was left in a state of disrepair and David said the last time he saw it was "sitting forlornly in a garden in Meigle".
David joined the Tayside Classic Car Club in 2001, when a work colleague suggested he come along to a meeting.
"It started from there and then I started attending show with the club and I've been with them ever since, 17 years," he said.
He didn't hear anything of the Mini until Maurice Cruickshank from Arbroath joined the club and said he had a Cooper 'S' with the same registration as the one David used to own, which he had bought and extensively restored.
So when Maurice said he was looking to sell it, David decided it was time to bring it back home again and he bought it October 7, 2011.
The Kingsmuir couple now take it along to different shows with the club, of which David is now on the committee of while the couple share the duty of newsletter editor.
The club was great as it accepted all different types of classic cars which suits the couple, who also have a 2001 Jaguar XJ8 Executive and a 1961 Hillman Minx 1500cc among their collection.
"What you've said you like about it is there's a big variety of vehicles," Maureen said to David.
"When you go to a one make club you only talk about that one make of vehicle," David said.
"I find it more interesting than a one make club.
"You usually find someone who's had that problem or knows someone so if you're stuck for hint you can find someone."
David grew up in Kirriemuir, but said his father was originally from Cornwall and he had traced his roots back to Central Europe.
"I went and did one of those DNA test," he said.
"The results come back that I'm actually from around Germany and France
"I kind of suspected that because I used to give blood and my blood group was European, but I've always lived in Scotland."
Maureen said they were quite well placed as they could visit the classic car shows both north and south of them.
"Because people don't tend to to travel long distance, when you go up Fraserburgh you tend to see a lot different vehicles up there than what you do here and the same when you go down south, you'll see something different," she said.
The couple are both preparing for the 13th Tayside Classic Motor Show, which is being held at Errol Airfield on Sunday, June 10, which they have been involved with for the last 12 years.
"We're hoping mother nature will be kind to us this year," Maureen said, after the event was called off last year due to rain.
The show, which has donated £47,000 to various causes over the last 12 years, will display more than 600 vehicles have this year ranging from a 1927 Austin 7 to the more modern classics including a wide range of cars, motor bikes, commercials and agricultural vehicles.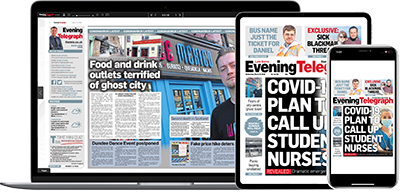 Help support quality local journalism … become a digital subscriber to the Evening Telegraph
For as little as £5.99 a month you can access all of our content, including Premium articles.
Subscribe