A career stuck behind a desk wasn't working for adventurer Grant Pettigrew, so he decided to retrain and do what he loves best.
Grant, 37, now works at Ancrum Outdoor Centre in the city and is focused on getting kids outside and participating in various activities.
It all started in 2014 when Grant felt bored in his role at an insurance company.
He said: "I just wanted to be outdoors and I became really unhappy with my job so I decided to go back to college in Perth and do an outdoor sports coaching and development course.
"I felt I would be better to take a wage cut and be happy and enjoy my job."
Following his college course, Grant started volunteering at Ancrum Outdoor Centre before becoming a sessional member of staff.
"It was great – I got to come to work and be paid to play outside. What more could you want?" Grant added.
The keen outdoorsman is now the Bikeability co-ordinator for Dundee, working primarily with schools around the city to teach children how to ride bikes safely in the hope that they will become more active.
Grant said: "The main goal with Bikeability is to get kids out riding their bikes to school and being safe on roads.
"When going out to some schools you realise that a lot of children in Dundee don't exercise regularly and some high school pupils had never even ridden a bike before.
"I get volunteers and teachers from all participating schools together and give them training that they can pass on to the students.
"It is massively important, not only because it is my job, but the way the world is these days with pollution, any way we can encourage greener travel and get kids off their bums and outside leading a healthy and active lifestyle is a win-win."
At one school alone, the programme has helped 280 pupils to become safer when they are cycling.
Grant can now never imagine himself doing any other job.
"I couldn't do anything else – I love it too much," he said.
"I say to folk all the time that if you are unhappy in your job, go and do something you love.
"It is hard and a big decision, there is no denying that, but I would rather be happy than have lots of money.
"I have learned so much since working here – it is just amazing."
Centre offers a huge range of activities for all
As well as the Bikeability programme, Ancrum Outdoor Centre has a huge range of activities for everyone to enjoy and get involved with.
From white water rafting to archery, there is something for every age and ability.
Grant's favourite to take part in is coasteering which takes groups ocean swimming, rock hopping, small cliff jumping and scrambling over boulders while exploring the coastline around Arbroath.
For a more relaxing activity, Grant and the team at Ancrum can take groups out on the Tay in a speedboat and enjoy dolphin watching.
Grant added: "There is so much on offer at Ancrum which I don't think a lot of people know about. We even have a dry ski slope for snowboarding and skiing."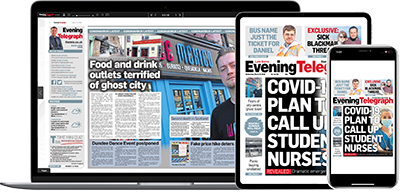 Help support quality local journalism … become a digital subscriber to the Evening Telegraph
For as little as £5.99 a month you can access all of our content, including Premium articles.
Subscribe