A special Dundee youngster is on a mission to help other kids while raising money for charity.
Eight-year-old Craigiebarns Primary pupil Addison Noble had 14 inches of her long hair cut off for the Little Princess Trust and Macmillan Cancer Support.
Proud mum Claire said: "Addison decided she wanted to donate her hair after she was moaning about it being too long — it was down past her bottom!
"We looked at a lot of different charities but decided it would be great to be able to do it for both the Little Princess Trust and Macmillan."
Addison has managed to raise more than £350, with people still donating to the cause.
Claire said: "Addison thinks it is absolutely brilliant that she is raising so much money.
"She is such a lovely girl and is constantly wanting to help people.
"We have a lot of older people in our area and Addison has so much time for them.
"Whenever we are out and about she loves talking to them all.
"Everyone is so proud of her for having her hair cut off as she absolutely loved it.
"Macmillan also sent her a medal to say well done for taking part in Brave the Shave which she was so happy about."
Claire added: "Addison got a bit of a shock when her hair was first cut but now she loves it.
"She can't stop showing everyone her new hair and she actually looks more grown-up now.
"I am so proud of her for doing this for charity."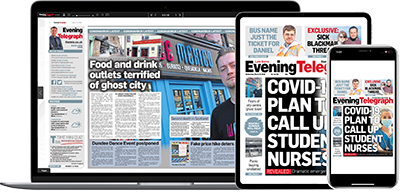 Help support quality local journalism … become a digital subscriber to the Evening Telegraph
For as little as £5.99 a month you can access all of our content, including Premium articles.
Subscribe