In her 47 years working as a nursery teacher in Dundee, Maureen Malone has looked after generations of the same families.
Now, as she looks forward to her retirement, which is only days away, Maureen, 64, said she had a lot of happy memories of her time looking after literally thousands of city youngsters.
Maureen began training at Flights Lane Day Nursery in Lochee back in 1971 when she was only 17 years old.
Between 1971 and 1973 she was at Polepark Nursery before she took a break to have her children.
Maureen returned to work in 1986 at Kingspark School.
Then, in 1986, she became the first-ever nursery assistant in Dundee's forward thinking Young Mums' Unit.
Maureen has remained in this position for 22 years, moving with the post from Avrom House, to Menzieshill High School, and more recently to Jessie Porter Nursery.
She said: "I have loved every minute of my time with the YMU, looking after the young mums and their babies.
"I have found it very rewarding and enjoyed watching the unit change over the years."
Maureen said that when she first started, there were regularly about 15 teenage mums attending school with their babies.
"That has gradually dropped over the years and now there are only two mums in the unit at Jessie Porter with their babies."
Maureen said she put Dundee's drop in teenage pregnancy down to two main factors – education and the morning after pill.
She said: "There is little doubt that education has played a big part in reducing the number of teenagers falling pregnant in Dundee.
"However, the introduction of the morning after pill has also played a very big role in prevent young girls getting pregnant."
She said that at the YMU she had enjoyed not only caring for the babies while their young mums were in class, but also being on hand to offer guidance and advice as well as parenting skills to the teenage mums.
"I never judged, I just enjoyed being there to help them.
"It was very forward thinking of Dundee to introduce the YMU and it actually became a model for similar units in other places in Scotland."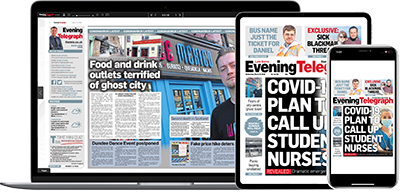 Help support quality local journalism … become a digital subscriber to the Evening Telegraph
Subscribe