Parents are to be asked for their views on plans for new schools in Dundee.
A consultation process is set to start on proposals to build a new high school on Drumgeith Road at the site of the former St Saviour's High.
The option of building a new campus could see Craigie High and Braeview Academy merged to become one new school – something until recently the council administration had strenuously denied would happen.
And parents, pupils and teachers will also be asked for their opinions on proposals for a new primary school in the Western Gateway.
Members of the city council's children and families services committee spent more than an hour last night discussing the future of education provision in Dundee.
Councillors agreed the next step would be to hold a consultation on the futures of Craigie High and Braeview Academy, which was badly damaged by fire last September.
The site of the former St Saviour's High on Drumgeith Road is being suggested as the possible site for a merged school.
Parents are to be asked on their preferred option, including whether the schools should remain separate.
It was also agreed the council would explore working with Angus and Perth and Kinross councils on the practicalities of developing a new joint community learning campus.
Paul Clancy, executive director of children and families services, admitted he did not have a clear view himself about how the council should proceed.
Members approved the consultation at last night's meeting.
The survey will now be put to parents, pupils and staff in the near future.
Convener Stewart Hunter said the council has no preferred option currently regarding a possible merger.
Labour councillor Michael Marra said: "A full multi-option community consultation should include a range of options including the provision of a separate primary school in the Western Gateway which is needed as a matter of urgency.
"People bought their new homes here in the belief that a new school was to be built."
He added: "It should also include consultation on the proposals for significant investment in Craigie and Braeview high schools."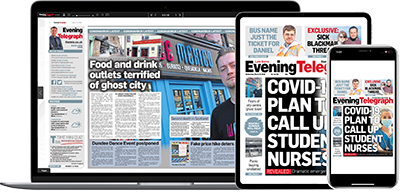 Help support quality local journalism … become a digital subscriber to the Evening Telegraph
Subscribe