Proposals to build 40 new homes in Dundee have been recommended for approval by council planning officers.
An application by Merchant Homes for a two-phase housing development on Haddington Avenue in Whitfield will be discussed by councillors at a meeting of the planning committee next week.
Phase one would involve three two-bedroom homes and 10 three-bedroom properties being constructed, on Haddington Avenue, to the north of community centre, The Crescent.
This includes associated landscaping and car parking.
Nine letters of objection were received from members of the public which raised issues including road and pedestrian safety; a lack of parking; loss of green space and the loss of light for existing properties on the west side of Haddington Avenue.
However, planners have argued that because of the location of the new housing on the west side of the avenue there would be no loss of light for the houses.
The second phase would help meet the need for affordable housing in the area with plans for a mix of social housing for rent.
The properties would consist of four two-bedroom mid-terraced houses; one two-bedroom semi-detached house; 17 three-bedroom semi-detached houses; one four-bedroom detached house; and a further four two-bedroom cottage flats.
George Roberts, the chairman of Whitfield Regeneration Forum, previously told the Tele he supported any construction of homes in the area.
He said: "The more houses that come into the scheme the better – whether that's affordable or private development."
Eight objections were received from members of the public regarding phase two, including issues with road and pedestrian safety, the loss of green space and claims the work is contrary to the local development plan.
However, in the report, council officers said that there was "justifiable reason to build houses which are outwith the plan".
Bruce Forbes, director of Angus Housing Association, said building houses in the area was a vital aspect to the overall regeneration of Whitfield.
He said: "More housing in Whitfield is something which is very important, especially homes that are available to rent.
"We currently have three projects where we are trying to buy sites from the council."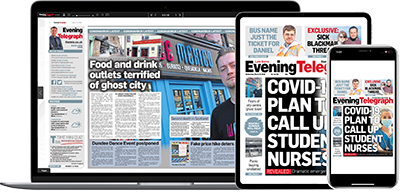 Help support quality local journalism … become a digital subscriber to the Evening Telegraph
Subscribe