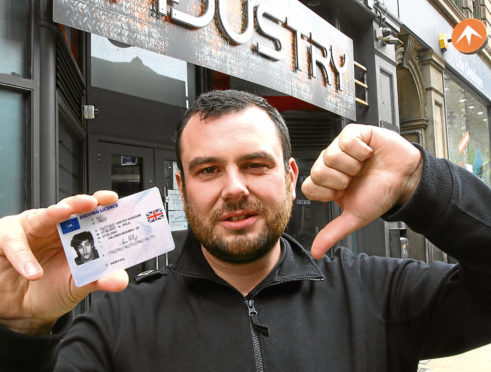 A Dundee nightclub is set to introduce special ID cards in a bid to keep out underage drinkers.
Industry Nightclub in the Seagate is set to roll out a new identity card in the hope of preventing youngsters gaining illegal entry to clubs.
Manager Grant Leslie told the Tele that people presenting fake IDs to door staff at the club had risen to a "ridiculous" level, prompting the club to launch a "proactive forward thinking response to the epidemic".
To obtain the card, customers will have to present two forms of up-to-date official ID.
To enter the club, revellers will need either this card, a passport or a driving licence — and other forms of ID, which are easier to copy or fake, will not be acceptable.
He said: "This will ensure any younger-looking customers are over 18, as it will carry a current picture of them as opposed to a picture from four years ago making ID-ing a lot easier.
"We can also ban people and remove the card at our discretion, giving us more control and creating a safer environment.
"We have had people talking about security issues, of not wanting to come into town with important pieces of ID as items might get lost or even stolen. So we came up with a safe and secure ID system where they can come to club during office hours with two or more pieces of legal ID — like passport, driving licence — to prove their age. We then take a copy for our records and take a current picture of them to put on to the unique Industry Nightclub ID card.
"It's another means to help us identify people that should or should not be in premises. Although people under 18 will always try to gain entry to clubs, it's not acceptable to business owners.
"No one wants to be in an over-18s venue and possibly chatting up someone that could be under 18. We have even seen some celebrities get into trouble over recent years at clubs for this reason.
"Although young people may think it's fun to try get into clubs, protecting young children from harm is our objective.
"We think all late-night venues should join us on this initiative."
It comes as Police Scotland announced people trying to gain entry into pubs and clubs with fake identification will be charged. A spokesman said: "It is worth reinforcing the message that those who do so are putting themselves, and others, at considerable risk."
Alan Ross, convener of Dundee City Council's community safety and public protection committee, backed the proposal, saying: "They are genuine licence holders and the place could lose its licence. I think it is right that they are taking steps to try to prevent this."
Other pub managers in the area said they thought the initiative was a good idea for Industry but said they would rather make sure staff were adequately trained to spot fake IDs.
Angus Welsh, manager of Tickety Boo's, said: "We don't really have a problem with underage drinkers. There are already ID cards like the Young Scot card."
Another city centre publican said they preferred equipping staff with the tools to spot fake IDs.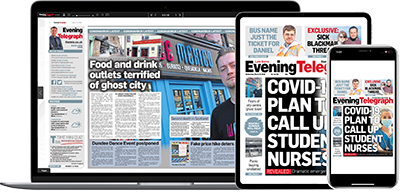 Help support quality local journalism … become a digital subscriber to the Evening Telegraph
For as little as £5.99 a month you can access all of our content, including Premium articles.
Subscribe