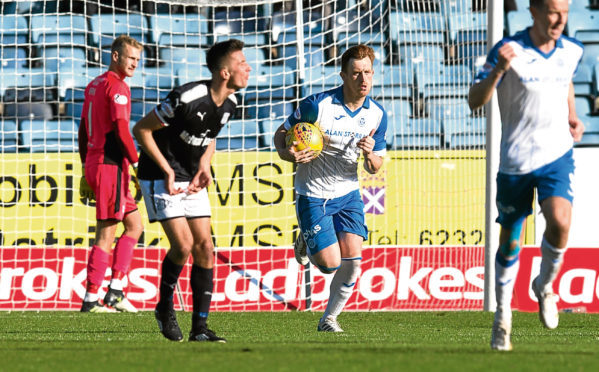 Dundee vice-captain Cammy Kerr is "raring to go" this weekend as Tayside rivals St Johnstone come to town for a huge bottom-half clash.
The Dark Blues have been out of action for the best part of a fortnight after their game at Celtic Park was called off last midweek.
The snow has made training difficult but, now the worst is over, Kerr has called on every man involved this weekend to be on the top of their game as they near the crunch point of the season.
With an unenviable fixture list coming up after the Saints game, the pressure is on Dundee to get a result.
Kerr, though, says it'll be no different than any other match.
He said: "I think pressure comes with every game because we haven't won enough games to be pushing right up the table.
"Every game we need to be bang at it — that's when we've got our results and everybody has worked really hard for each other.
"We've done great when we've worked together as a team.
"Not just people in Dundee see that but there's been others saying it as well.
"It's important we keep doing that and keep building on what we've already done this season.
"The last two or three games have been against teams within a place or two of us and it's important we keep looking above us and an eye below because you can never get complacent.
"Every game is tough but the ones coming up are maybe tougher than you'd expect with a few away matches.
"However, every game this season has been one where it's been competitive.
"It's been close so you can't take your eye off any team whether they are top of the table or down beside you."
Under Neil McCann's management, Dundee have picked up two wins from two against St Johnstone.
The last time the teams met at Dens saw the home side run out 3-2 winners before their clash at the turn of the year saw the Dark Blues make the short journey home from Perth with a 2-0 score and three points in their back pocket.
Cammy added: "We've done OK but it's important we don't rest on that and keep striving to do our best against them.
"They are a stuffy side, a difficult side and they've picked up in the last wee while, getting a great result at Parkhead and the win over Ross County.
"So, they'll be in buoyant mood but we need to make sure we're on it on Saturday and we get a result.
"It's a local derby and gives it a bit more interest.
"It's good when these games come along because it gives it a wee edge and that's what you want as a player."
It was frustrating for Kerr to see the Celtic fixture called off last week, though he admits having a bit of time off might just do the Dark Blues a bit of good.
"Last week, we were relishing going to Parkhead and playing there because it's a great place to play," he added.
"They are the games you want to go and play in, so it was disappointing for it to be called off.
"It was good, though, to get the feet up at the weekend. Sometimes it helps to get that after a run of games and get your mind off football and just chill out. To get the batteries recharged and ready for the tough run in we've got.
"We just need to keep going, keep working away.
"It is easy enough to say that but I do think we have a good squad that are itching to get a game on Saturday.
"I'm raring to go. Not having the game makes you want to get out there even more and, when it comes around, hopefully, we get a result."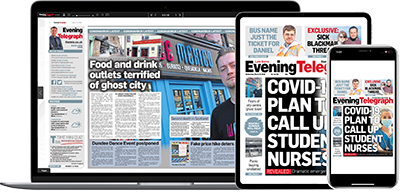 Help support quality local journalism … become a digital subscriber to the Evening Telegraph
For as little as £5.99 a month you can access all of our content, including Premium articles.
Subscribe