A Dundee boxer has been found guilty of carrying out controlling behaviour on his ex-partner.
Ronnie "The Shark" Clark, 32, was put on trial in an English court over claims of harassment and coercion against Rebecca Graham, who he had formerly lived with.
The case called at Northallerton Magistrates Court in North Yorkshire, where Clark faced two charges of a domestic nature.
Following the trial, he was convicted of one of the charges.
The super featherweight boxer, who also goes by the surname Meechan, will be sentenced on June 24 at the same court.
The case followed an investigation by North Yorkshire Police which charged Clark with "controlling behaviour and harassment".
He was charged by officers after his then-partner Miss Graham said that he had carried out a campaign of harassment over a seven-day period in October last year.
According to the Crown Prosecution Service, Clark was convicted of a crime which can involve "controlling or coercive behaviour in an intimate or family relationship which causes someone to fear that violence will be used against them on at least two occasions, or causes them serious alarm or distress which had a substantial adverse effect on their usual day-to-day activities".
The British Boxing Board of Control (BBBofC) — with whom Clark is the reigning Scottish Super Featherweight champion — was asked if the conviction would affect his status, but they hadn't replied before the Tele went to press.
Clark, of Duncarse Place, in Charleston, won the title in Motherwell last March, beating Jordan McCorry of Cambuslang.
Clark has also participated in bigger title fights. Broadcast on Sky Sports last year, he took on English professional boxer Martin J Ward for the British Super Featherweight title at Wembley Arena, but lost.
Clark has also fought in Dundee, with appearances at the Caird Hall and Dundee Ice Arena, but he has also competed in Glasgow, Edinburgh and Aberdeen, as well as several venues across England.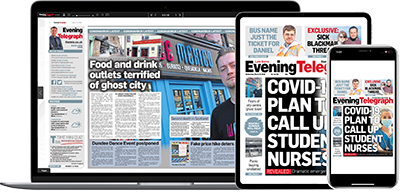 Help support quality local journalism … become a digital subscriber to the Evening Telegraph
Subscribe