A woman is set to undergo "life-changing" treatment in the hope of putting her MS on hold for good.
Mum Aimee Ross, 32, completed a night-time ascent of Ben Nevis – the UK's tallest peak – to raise money for the Multiple Sclerosis Society (MSS).
The NHS addiction support worker has relapsing MS, a condition which causes the immune system to mistakenly attack the brain or spinal cord.
This time last year, the condition had left her unable to walk – but thanks to a revolutionary new treatment she was able to climb the mountain unaided.
In all, Aimee, sister Adrienne Dale, who lives in Dundee's West End, and stepdad Brian Dale raised just over £1,000 between them – contributing to a £25,000 pot raised for MSS by 38 walkers on the unlit, eight-hour trek.
Aimee said: "I kept saying to Adrienne beforehand that I didn't think I could do it. But when I started the night walk, the adrenalin kicked in.
"At first, with everyone gathered together with head-torches on, it was quite bright but as we all split into little groups it got very dark, very quickly.
"The weather got quite bad towards the summit and we were in the clouds, so we couldn't see a thing.
"It was amazing getting to the summit but we didn't stay for long because of the cold."
Aimee was diagnosed with MS three years ago after losing her sight in one eye for about six weeks.
It was the first of a series of symptoms she would come to call "flare-ups".
Other flare-ups have deprived her of feeling in her face and the sides of her body.
Her worst, this time last year, left her requiring the use of crutches until the feeling in her legs returned.
"When I was diagnosed I just went straight into denial," she said.
"I thought it was one of those things that just happened to other people.
"It's really scary not knowing what could come from the next flare-up, or when it will appear."
However, thanks to the support of her doctors, Aimee was able to secure access to a relatively new treatment not yet available on the NHS in Scotland.
The treatment, a drug called alemtuzumab or Lemtrada, is designed to stop cells from attacking the brain and spinal cord, to cut the likelihood of Aimee's "flare-ups".
Research by MSS found relapses were halved compared with using more typical treatments.
She underwent the first of two treatments last year, which involved staying in hospital for five days to have the drug administered via a drip feed.
Her next treatment, which is next week, should be her last, allowing her to get on with life at home in Kennoway, Fife.
Aimee added: "Since I got the first treatment I haven't had a single flare-up.
"It has been life-changing, especially because I work full-time and have a son, Samuel, 5.
"I feel so good now so I thought it was only right to do something to support the MS Society.
"It's only through all the research they do that drugs like this exist.
"Last year I couldn't walk – and now I've climbed Ben Nevis."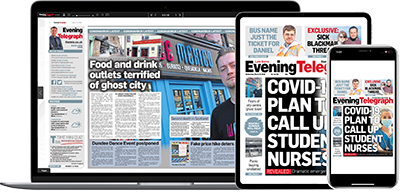 Help support quality local journalism … become a digital subscriber to the Evening Telegraph
For as little as £5.99 a month you can access all of our content, including Premium articles.
Subscribe