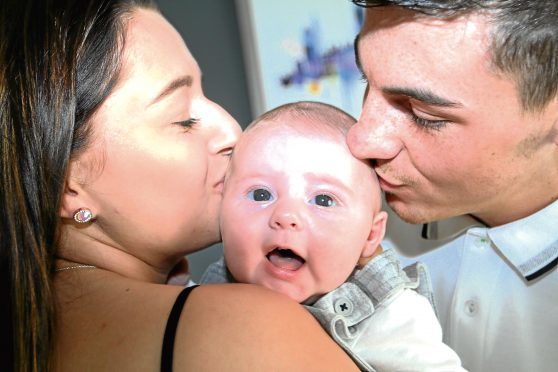 A mum has told how she thought her son was going to die after he contracted meningitis at just four weeks old.
Little Leo Mitchell, from Mill o' Mains, was rushed to hospital after suddenly turning as "white as a sheet" and vomiting blood.
He was transferred from Ninewells Hospital to the Royal Hospital for Sick Children in Edinburgh where he fought for his life in an induced coma.
Leo — now aged 10 weeks — has overcome the illness and is on the road to recovery. But his battle for survival could potentially have been avoided if mum Lara Manderson, 20, had been given a swab at 36 weeks pregnant to detect the strep B strain of the virus.
The screening is common practice in many other countries but the National Institute for Clinical Excellence in the UK does not recommend such testing.
Now, Lara and partner James Mitchell, 22, want to raise awareness among mums-to-be that tests can be carried out privately for less than £40.
Lara said: "Leo was born on June 3 and he was perfect — he was just a normal baby.
"But that all changed on July 3 when he suddenly became ill. We were in the town and he was in his carry cot and he was really pale.
"We took him back up to the car and put him in his seat — he was as white as a sheet.
"I said to James 'he's not right' and his breathing was really funny.
"When we pulled up at the house, James took him out of the car. At that point Leo was sick and there was blood in it. So we immediately took him straight up to the GP."
Suspecting it might be meningitis, the doctor took swift action and gave Leo an injection to fight the infection — an action that potentially saved his life — before he was rushed to A&E.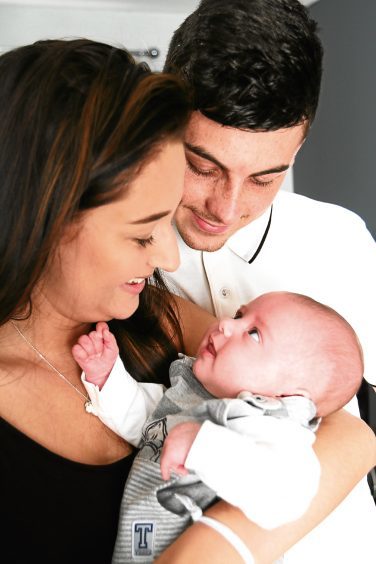 Lara added: "There were loads of nurses and paediatricians — it was really traumatic, watching him struggling for breath. It was just horrible.
"With the colour of his skin and the way he looked on the bed, he looked dead. I thought, 'he is not going to make it'.
"We were later told it was strep B. I'd never heard of it before but we were told it was an infection in the blood — a form of meningitis."
Leo was kept in hospital in Edinburgh, including nine days in intensive care, before he was transferred to Ninewells and finally given the all-clear this week.
Lara said: "There was a week when I wasn't even allowed to hold him — the whole experience was horrible.
"When we were back at Ninewells they said there were patches of meningitis on his brain.
"The doctor couldn't determine if there would be anything wrong in the future because he is so small.
"But we think he's going to be OK as we went for an MRI scan last Friday and his brain is clear."
But Lara believes the whole episode could have been avoided.
She said: "When you think of the cost to the NHS in keeping Leo alive for all that time and going to Edinburgh in an ambulance, it could have all been avoided with a £40 swab."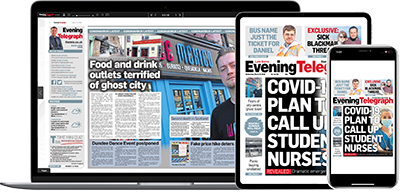 Help support quality local journalism … become a digital subscriber to the Evening Telegraph
Subscribe