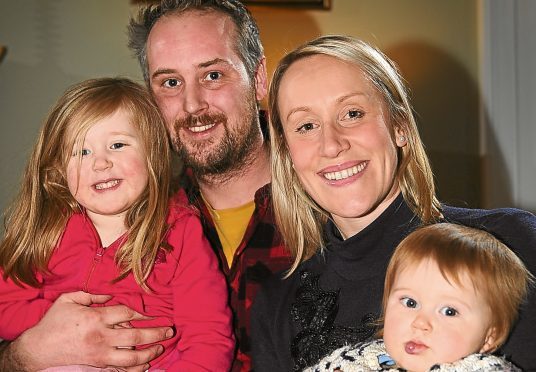 A Dundee mum has said she cannot believe her family are still alive following a spectacular Angus road crash.
Anne Arbuckle, 35, and husband Michael, 36, walked away with minor injuries while children Sophie, 3, and Ellie, 1, were miraculously unscathed when their Land Rover ended up in a ditch after skidding on black ice and flipping on to its roof on the B961 near Carmyllie.
"I feel like a cat with nine lives," said Mrs Arbuckle. "I can't believe we are all alive."
Mrs Arbuckle, who works in Dundee as a solicitor, said the family were visiting a friend at a farm in the village.
She said: "We knew it was frosty and we approached a bend at about 20-25mph but, as I went to turn, the car just didn't respond and started to slide across the road.
"We hit a fence post and kept going and rolled into the ditch – we went over once and there was a really loud bang. Then I was upside down in the car and the air bags had gone off."
Mrs Arbuckle said the family's Discovery Sport ultimately saved their bacon as it had an SOS system which called the emergency services.
"That's something we would have been unable to do as my daughter had been playing with my phone in the back seat and it was lost," she said. "I was terrified the car was going to go on fire and we couldn't get out."