A Dundee mum has spoken about the importance of young women taking up the offer of a smear test after being diagnosed with cervical cancer at just 30.
Whitfield woman Cheryl Ferrie was diagnosed with the disease in 2017.
Cervical cancer affects almost one in 100 women and Tayside has the highest incidence of it in Scotland.
This week marks cervical cancer awareness week, with women across the city being encouraged to take up their screening invite.
Speaking to the Tele about her diagnosis, the mum of two said: "It was unexpected. I had gone without my smear test for nine years.
"I had my first one when I was 21, then I hadn't been for another one until I was 30.
"I just put it off and put it off.
"I was due when I was pregnant with my first and I was asked about it again when I was pregnant with my second baby.
"I booked in for it when he turned one.
"As far as I thought I didn't have any symptoms.
"I had lower back pain, I just put that down to having kids.
"I went for my smear test, it came back abnormal. I then got an appointment to go back to Ninewells.
Cheryl then had a loop electro surgery excision procedure carried out, where cells from her body were taken away for testing.
"That was when it came back to say there was cancer present," she said.
"I was devastated really, I couldn't believe it. I was in shock, it took a while to sink in.
"Straight away I just thought – 'I've got two little boys, are they going to grow up without a mum?' I didn't know how far advanced it was."
Cheryl had further tests and discovered she was at Stage 1B and that the cancer was very early on.
"The next option for her was to have a hysterectomy, which was carried out at the end of October 2017.
The cancer was removed along with her fallopian tubes.
Cheryl is now in recovery and has to have check-ups every six months to make sure the cancer remains absent.
She added: "I think about it all the time. It's a constant worry – what if it comes back?
"My family and friends were all amazing, helping out with the boys. My youngest one was only one, I couldn't lift him, I wasn't allowed to do any heavy lifting."
Cheryl has been taking part in programmes encouraging women to get their smear test.
She volunteers with Jo's Cervical Cancer Trust, taking part in their Be Cervix Savvy roadshow in Dundee.
She is keen to organise another fundraiser in the future.
"I constantly hassle all my friends and family to make sure they go," she said. "Straight away I started to do little fundraisers, I did a 5k run in May, raising £460."
When asked what she would say to those women who may be hesitant to get their smear test, she said: "I would just say don't be worried about it. It is five minutes out of your day.
"If I could go back and just go for those five minutes I'd definitely do it.
"It shows that it is worth going. I got bad news but I am still here. Just go as soon as you are invited."
Tayside area is the worst in Scotland for screening uptake
As part of Cervical Cancer Prevention Week, NHS Tayside is calling for women to attend their smear screening.
NHS Tayside has the lowest uptake rate in Scotland.
Screening saves the lives of about 5,000 people in the UK.
This March also marks 10 years since reality TV star Jade Goody died from the disease.
From when she announced her diagnosis in 2008 to March 2009, an extra half a million smear tests were taken up by women in the UK.
Scotland experienced a 4% increase on the yearly figures, since dubbed the "Jade Goody effect".
All women between the ages of 25 and 50 are offered a cervical screening test every three years. Those aged 50-65 are offered every five years.
Lead colposcopist Dr Kalpana Ragupathy said: "An abnormal smear does not mean cancer. It means a surface change in the cells in the cervix that could maybe turn into cancer if left untreated. Precancerous changes precede cervical cancer by 10-15 years.
"Regular smear tests pick up these changes and treatment reduces the risk of cervical cancer by 95%."
Gynaecological cancer lead Dr Wendy McMullen said: "Surface changes that need treating can almost always be treated in the clinic, either at the first or second visit.
"The examination takes about five minutes and the treatment, if needed, about another five to 10 minutes.
"It is so sad to see women having life changing treatment for a cancer that could have been prevented by a five minute smear test and a half hour visit to the clinic."
For more information on how to book your smear test, visit nhsinform.scot, like their cervical screening page on Facebook, visit Jo's Cervical Cancer Trust, or talk to your GP.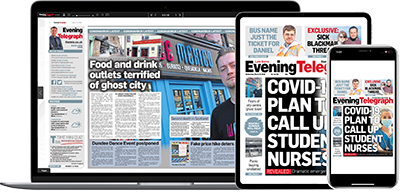 Help support quality local journalism … become a digital subscriber to the Evening Telegraph
Subscribe