Dundee West MSP Joe FitzPatrick has lent his support to Linda McDonald's fight to get the law changed on prisoners on parole.
The 53-year-old was subjected to a brutal assault at the hands of killer Robbie McIntosh in Templeton Woods in August last year.
McIntosh was on day release from prison at the time.
He was serving a life sentence given to him in 2002 for stabbing dog walker Anne Nicoll to death on the Law when he was just 15.
Linda is set to meet Justice Secretary Humza Yousaf this week as she launches a campaign to get the law changed over the parole and home release of convicted murderers.
Mr FitzPatrick said: "I first met with Mrs McDonald and her husband the week following the horrendous attack to offer my support as local MSP.
"We have met again since and a further meeting is expected soon.
"Since the attack, Mrs McDonald has shown incredible resilience and bravery.
"Over the course of this year, I have been in touch with Tayside Multi Agency Public Protection Arrangements (MAPPA) regularly to ask for updates on the significant case review.
"I understand that a draft report has been provided to Tayside MAPPA members and this is now being finalised. I will look to continue assisting Mrs McDonald and her family to ensure they feel fully supported going forward."
Last week, the temporary release of prisoners was discussed at First Minister's Questions after the subject was raised by Liam Kerr, Scottish Conservative shadow justice secretary.
In response, Nicola Sturgeon said: "Parole and temporary release are two entirely separate processes. We recognise the importance of strengthening the voice of victims and their families in parole and temporary release.
"We are committed to action to improve both of those.
"That includes a commitment to consult on measures to improve the openness of the parole processes.
"That consultation will seek views on how we can strengthen the voice and role of victims and their families."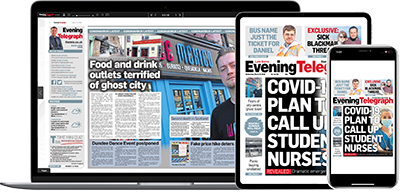 Help support quality local journalism … become a digital subscriber to the Evening Telegraph
For as little as £5.99 a month you can access all of our content, including Premium articles.
Subscribe