A Dundee politician is to quiz the Scottish Government on what can be done to tackle sexual offences involving children.
Shona Robison, the MSP for Dundee East, will raise the issue at Holyrood in response to the Tele's Our Kids Need Justice campaign.
The campaign is calling for mandatory jail sentences for people convicted of sexual offences against youngsters, in response to the number of sex offenders avoiding prison.
An exclusive Tele poll of nearly 450 readers found that 90% of them supported automatic jail terms for those committing these crimes.
Ms Robison has submitted a question to be considered in the new session of the Scottish Parliament, which reconvenes later this week.
The former cabinet secretary for health and sport is to ask: "What measures are being taken to tackle sexual offences, particularly those involving children?"
She also wrote to Justice Secretary Humza Yousaf about the matter on July 16, and is awaiting a response.
Speaking to the Tele, Ms Robison said: "I will be asking what action the Scottish Government is taking in this area. At the time I wrote to Humza Yousaf because there have been significant issues around this and, in particular, it was in response to the Evening Telegraph's campaign.
"Sexual crimes against children is a very important and emotive issue and one the public, rightly, cares a lot about. The main reason for putting the question in to be answered in parliament is to get more detail about what action is being taken by the Scottish Government.
"Once we have a response, that can then be taken to the Scottish Sentencing Council to consult with the Lord Advocate about the issue."
The Scottish Sentencing Council was set up in 2015 to promote consistency in sentencing across Scotland.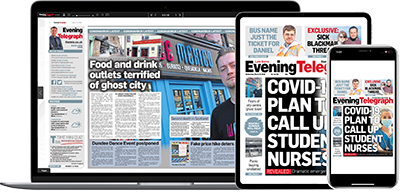 Help support quality local journalism … become a digital subscriber to the Evening Telegraph
For as little as £5.99 a month you can access all of our content, including Premium articles.
Subscribe