Dundee West MP Chris Law has called on the Prime Minister to ensure that Dundee has a guaranteed air link with Heathrow from 2021 ahead of the opening of the V&A later this month.
At Wednesday's session of Prime Minister's Questions, Mr Law highlighted that the V&A is expected to attract up to half a million visitors in its first year from all across the world and that with an announcement on the finalisation of the Tay Cities Deal imminent, connectivity with key airports such as Heathrow is vital to the success of new investment in the city.
He then asked the Prime Minister: "As an air link to Dundee was part of Heathrow's bid for the third runway, will the Prime Minister today express her firm commitment for the introduction of a new direct air service to Dundee by 2021, and the associated investment required to secure this?"
The Prime Minister did not give an expressed guarantee, however stated that she expects more connectivity between British airports.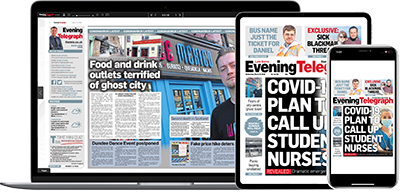 Help support quality local journalism … become a digital subscriber to the Evening Telegraph
For as little as £5.99 a month you can access all of our content, including Premium articles.
Subscribe