Dundee West MP Chris Law has called on benefit chiefs to consider fitting jobcentres with disabled toilets for claimants with mobility issues.
Mr Law has written to UK Disabilities Minister Sarah Newton to raise the issue after he was contacted by a local resident.
Ardler man John Bisset, 69, told Mr Law that he had to help a friend who uses a walker after staff at Dundee Jobcentre told her there were no disabled facilities available.
Mr Bisset told the Tele: "I spoke to one of the security guys and he said, 'I'm very sorry – unfortunately public toilets are not provided in jobcentres.'
"I had to take my friend to McDonald's in the Wellgate centre. The staff there were very helpful and understanding.
"This can't be right. My friend was very distressed.
"There should be disabled toilets there for people waiting to be seen."
Mr Law confirmed he had spoken to the jobcentre.
He was told that it had an official policy of not offering public-facing toilets.
In emergencies, however, members of the public can request the use of on-site staff facilities.
The MP said: "I was advised by the jobcentre that it does allow use of the staff toilets with discretion for people with medical needs or young children.
"For many, this is unsuitable – especially for those with physical disabilities.
"Given this, I will be writing to Sarah Newton to raise the lack of appropriate facilities and the concerns of my constituent."
More than 800 working-age people claim disability benefit through Dundee Jobcentre, according to figures from the Department for Work and Pensions (DWP).
A spokesman for the DWP said: "Customer access to toilets in jobcentres is decided on a site-by-site basis for safety reasons.
"Some discretion can be given to disabled people to use staff toilets if necessary."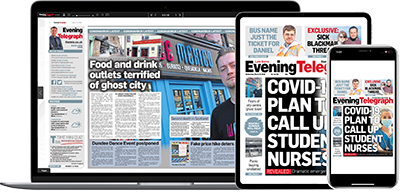 Help support quality local journalism … become a digital subscriber to the Evening Telegraph
For as little as £5.99 a month you can access all of our content, including Premium articles.
Subscribe