Negotiators will meet Michelin bosses with a plan to save as many jobs as possible at the tyre giant's doomed Dundee factory.
The Michelin Action Group will attempt to persuade the French firm to retain at least part of its Baldovie plant as a centre for research and development, following the factory's planned closure in 2020.
The group of 16 politicians and business leaders met for the first time at DC Thomson's Meadowside headquarters on Monday, when initial talks were described as "encouraging".
While the team concedes there is little chance of changing the minds of Michelin bosses about the factory closure, there is optimism that the site can be repurposed and that some of the plant's 845 jobs can be saved.
Factory manager John Reid said: "Success for me would be protecting jobs for at least some of our workforce.
"It would also be getting the best possible outcome for our workers.
"For some people nearing the end of their careers, that might involve getting a decent redundancy package but for others it would be ensuring retraining and re-skilling.
"I would hope that Michelin could maintain a presence of some kind in Dundee. In the meantime, my priority is to support our workers through this situation."
Mr Reid added Michelin was genuinely interested in listening to any options that are put to the firm.
"Initial talks were encouraging," he said.
"Michelin believes that the Scottish Government is genuine in trying to find some way to keep Michelin in Dundee."
Also among those taking part in the talks were the Scottish Government's Economy Secretary Derek Mackay, Scottish Secretary David Mundell and the leader of Dundee City Council, John Alexander.
Councillor Alexander said: "It was a really positive first meeting. We will now go away and look at all the options.
"One option being looked at is retaining Michelin as it is but the reality is that is the biggest challenge and the least likely to happen.
"The second option is repurposing the factory and the investment at the site. That could be in research and development or innovation.
"Complete success for me would be keeping the plant open but I have to be realistic and that is not likely to happen in its present form.
"If, however, we can retain part of the plant and keep Michelin's footprint in the city that will also be a successful outcome."
Mr Mackay said: "We came together to look at all possible options and that is what we will continue to do.
"I want Michelin to have an on-going presence in Dundee and I will be looking at all possible options to achieve that.
"There is a commitment from the Scottish and UK governments to work together to present the best possible case to Michelin's top bosses when they travel from France in two weeks time.
"It is unprecedented for Michelin to allow this process to go ahead so that gives us hope that there is scope to be optimistic about the future of Michelin in Dundee."
Mr Mundell said: "We have to come up with options that would find favour with Michelin.
"It has indicated it will listen to alternative proposals for the site.
"I can confirm that no extra money will be given to the Tay Cities Deal to save Michelin."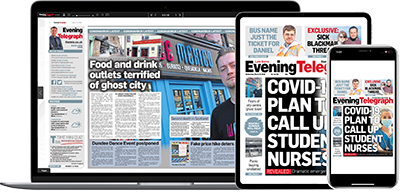 Help support quality local journalism … become a digital subscriber to the Evening Telegraph
For as little as £5.99 a month you can access all of our content, including Premium articles.
Subscribe