A rapist jailed for seven years told one of his victims she "must have dreamed" his sick attack.
Jude Byers, 21, was one of three women raped while she slept by Matthew Ferguson, of Wellgrove Street, over a five-year period in Dundee and Galashiels.
The 24-year-old denied a series of charges during his trial at the High Court in Edinburgh but was found guilty of the attacks, committed between March 2011 and April 2016.
Ms Byers, who waived her right to anonymity, was raped by Ferguson on various occasions between March 2013 and April 2015 at addresses in Dundee. Ferguson also had unlawful sex with her between April 2012 and April 2013.
Speaking to the Tele, she said: "I am glad that he's been given seven years but I want him to serve all of that. If he gets out early then I don't think there is any justice in that.
"I was 15 when I met him and there was no sexual stuff – it was all mind games.
"It all began to escalate and the first time it happened he said I must have dreamed it.
"The last time it happened I woke up and I caught him red-handed. He knew what he had done.
"When I went to court I was really panicked but I knew I needed to stay calm. I actually saw him when I was outside the court and he just gave me death glares.
"I saw how smug he looked in court but that made me less scared and more determined."
Ferguson was also convicted of rapes in Galashiels, with one victim saying she was attacked while staying as a guest at a house party.
She later told police that Ferguson had come into the room where she was sleeping and molested her.
Describing when Ferguson raped her, she said: "It took me a minute or so to realise someone was lying on top of me."
As well as jailing Ferguson, Judge Lady Carmichael placed him on the sex offenders register indefinitely.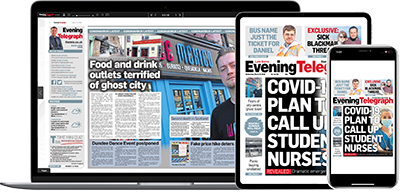 Help support quality local journalism … become a digital subscriber to the Evening Telegraph
For as little as £5.99 a month you can access all of our content, including Premium articles.
Subscribe