A man left unable to walk after a "freak accident" is raising money in honour of the physiotherapist who helped him through his recovery.
Chris O'Mara, 27, is an actor who lives in the city centre and was injured while combat training for a film. He now plans to run the Inverness half marathon in March, raising funds in the memory of Jessica Suttie, who tragically died at eight months old following an illness.
Jessica's dad Andrew helped Chris through his recovery. Despite his foot being partially paralysed, Chris will take part in the Highland race to raise money for Children's Hospices Across Scotland (CHAS).
Baby Jessica had spent time in Rachel House in Kinross with her twin sister Georgia and her parents Jaclyn and Andrew, where she was cared for and tended to by staff.
Chris said if it was not for Andrew's support, he does not know if he'd be where he is today.
He said: "I was at an Airsoft event and the plan was to get some combat experience to use on set.
"During the first scenario of the day, I was running and landed funny on my left leg.
"It gave way underneath me after a couple of loud pops and I was down on the ground.
He added: "I'd severed three of the four ligaments in my knee, my hamstrings, meniscus, fractured the tibia and damaged nerves, too.
"I had my initial surgery in Edinburgh and then four weeks later a second operation in Dundee due to an infection."
Chris was left unable to walk for six months, putting his career as a dancer and actor on hold.
During his recovery, he struck up a bond with Andrew.
He said: "Doctors prepared me for the worst. They said the chances of me dancing or running again were unlikely and I should think about a different profession or new hobbies.
"After the surgeries, I was handed over to Andrew in the rehabilitation gym. Andy pushed and pushed and I know without his knowledge and support I wouldn't be in the positive position that I am in today."
Jessica fell ill with meningitis at six weeks and was later diagnosed with Zellweger syndrome, a rare life-shortening genetic condition.
Chris will be running the 13.1 mile race on March 10. To donate to his fundraising page visit justgiving.com/fundraising/comara.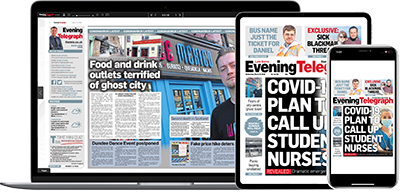 Help support quality local journalism … become a digital subscriber to the Evening Telegraph
For as little as £5.99 a month you can access all of our content, including Premium articles.
Subscribe