A council tenant whose house was flooded during cladding work has spoken of his "nightmare" after he was left battling for insurance money.
Scott Fraser, of Balunie Drive, came home from a two-day stay at his parents' house to find that a blunder by a construction firm had left his drains blocked.
Foul smelling water overflowed from his bathtub, toilet and sinks, leaving wallpaper and flooring in the ground-floor flat ruined.
Dundee City Council wrote to Scott, explaining that contractor Turner FM had allowed debris to get into the drain when removing drainpipes from the side of the building during cladding work.
Now, five months later, he is still waiting to be given insurance money for the damage caused by the firm.
Scott, 50, said he has been left in a "frustrating" position as he cannot claim on his own home insurance as he was not at fault.
His MSP Shona Robison has even stepped in on his behalf, writing to the local authority to try to resolve matters.
Scott, who is unemployed, said: "It's just horrible. The water was absolutely stinking and has ruined a lot of the wallpaper and flooring. I had been staying at my mum and dad's and come home to find it like that.
"It was mainly in the bathroom and kitchen but also in the hallway as well.
"I ended up having to put towels down to try to soak up as much of the water as I could, then the council gave me dehumidifiers to try to get rid of the damp."
As a clause of the contract between the two, the construction firm has public liability insurance to cover any damages claims made.
Scott said: "I wanted to get it fixed, but the council was pretty unhelpful I feel, just leaving me to deal with it.
"Then I was told it wasn't their responsibility but the contractor's.
"I went to my home insurers TSB but they said I couldn't claim as it wasn't my fault, so I've been left in limbo."
A spokesman for Dundee City Council said: "The contractor would make a decision about any claim that was passed on through the council."
Tom McDonald, the manager in charge of the project for Turner FM, said: "Our contract is with SSE and we have passed the claim back to them and SSE will respond to the council.
"I have dealt with it and responded to say I think it is unsubstantiated and we don't agree with it. I would say it is a physical impossibility for a bath to flood if rendering was poured in a drain, unless taps were left running in the property. Our staff work externally, not in the properties."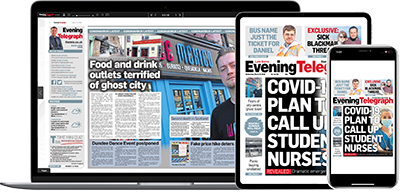 Help support quality local journalism … become a digital subscriber to the Evening Telegraph
For as little as £5.99 a month you can access all of our content, including Premium articles.
Subscribe