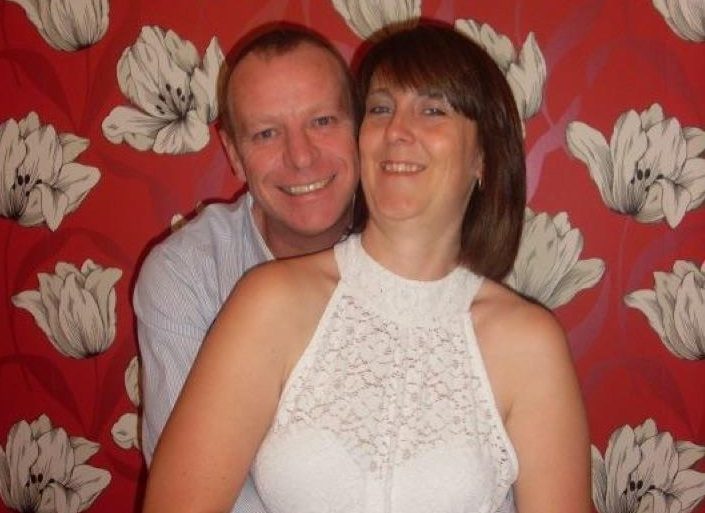 A brave Dundee man died in his partner's arms after choosing to end his life "on his own terms".
Steven Cree, of Downfield, passed away from multiple myeloma — a rare bone marrow cancer — while lying next to his wife Tracey, 43, in Ward 34 at Ninewells Hospital after deciding to stop treatment.
The 48-year-old dad-of-two had battled against the disease since he was diagnosed in January 2004.
The diagnosis was only made after Steven broke his arm while innocuously throwing a rubbish bag into a skip.
Despite doctors only giving him five years to live, he survived for more than 12 years.
Steven, a cable joiner, underwent two stem cell transplants and various cycles of chemotherapy throughout the years.
After his kidneys began to fail, he elected to have dialysis at home through the night in order to be able to continue working.
His machine was nicknamed "Sydney the kidney".
His family credited his never-say-die attitude towards his prolonged life, with Tracey today paying tribute to Steven after he passed away on Friday.
She said: "The chemotherapy was knocking the life out of him and he decided that he wanted quality of life rather than the time.
"It was a hard decision but it was one he wanted to make.
"His kidneys weren't functioning because of the chemotherapy. He had dialysis but he decided to stop having it.
"He just didn't want to be a burden and wanted to stay at home.
"He was a really strong person. He fought for more than 12 years. He probably survived so long because he had such a positive attitude.
"It is about the longest anyone can survive with multiple myeloma."
His brother Brian, 59, described Steven's decision as "the bravest decision that he could make".
He added: "He took control and made sure it was on his own terms.
"Even though there wasn't a cure he fought until there was nothing left. If there had been a cure he would have beaten it.
"He was the most positive down-to-earth family man and he just got on with everyone.
"He will leave a huge hole in the lives of everyone."
Steven was born in Downfield to dad Douglas, now 84 and the late Betty, who passed away from the same form of cancer.
As well as Brian, he also leaves behind siblings Ann, 63, and Douglas, 55.
Steven and Tracey met in Ferrari's pub in 1992 and the pair hit it off straight away. She proposed to him a year later while holidaying in Cyprus.
The couple had two children together, Darren, 22, and Rebecca, 19.
Tracey said she hopes Steven's story can inspire people who are in a similar situation to not give up hope.
She also hopes the example he set will pay dividends in his children's lives.
She added: "He was an amazing person. He was positive right up until the day he died.
"He wrote out thank you cards for his workmates and asked for a bottle of whisky to be brought up to the hospital so he could have a dram with everyone. I don't think he even liked whisky.
"There will be a lasting legacy because he took part in tests at Oxford University."
Steven's funeral — to which family and friends are invited — will take place at Dundee Crematorium on Monday at 12.30pm.