A dog owner who camped out on a hillside with night vision goggles to find his missing pet is celebrating after the pair were reunited.
Jamie Summerton's five-year-old Staffordshire Bull Terrier Snoop ran off at the top of Carrot Hill, between Dundee and Forfar, on Monday.
The 23-year-old from Stobswell spent 42 hours combing the surrounding area in a bid to find her, to no avail.
Miraculously, he managed to locate the dog on Wednesday afternoon.
Snoop was found at a farm at the bottom of the hill and Jamie believes she had been hiding in a barn.
He said: "I was on the road speaking to a couple of locals and my mate shouted on me — she just appeared out of nowhere.
"It was incredible, my legs went to jelly — it is brilliant.
"She is quite happy and there are no injuries but she is a bit rough.
"I think she was a bit hungry too."
Jamie, who works as a tile salesman, even camped out on the hillside using night vision goggles.
While Snoop was still missing, Jamie had told the Tele that he felt like he'd "lost a leg" and was determined to find her.
He said: "We got out the car and it's about a 15-minute walk to the top and she was fine.
"When we were at the top she got a bit weird but I didn't think anything of it.
"I sat down for a second and I heard her running eastwards through the bushes.
"I don't know whether she was chasing something or if she'd been spooked — she didn't even look back.
"I started running after her but she was gone."
Jamie had camping equipment in his car and was able to set up on the hillside in the hope that Snoop would return.
The second night, he managed to borrow night vision goggles from a nearby farmer — but despite his efforts he still couldn't find her.
Jamie added that he has no idea what caused Snoop to take off running.
Before she was found, he said he was even considering whether to ask farmers if they knew of any drainage systems in the area that Snoop might have fallen in to.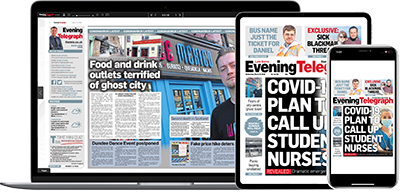 Help support quality local journalism … become a digital subscriber to the Evening Telegraph
Subscribe