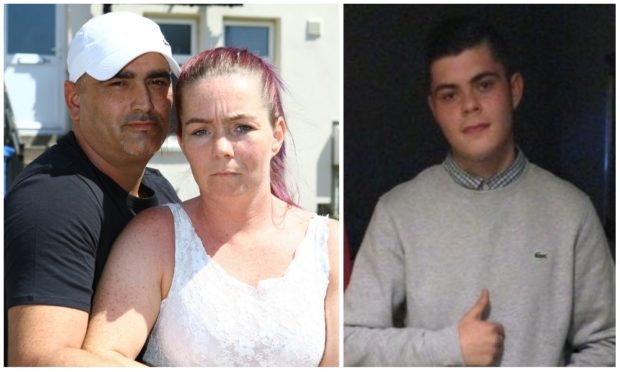 The grieving family of a Dundee man found dead in prison have paid tribute to his "kind soul".
Gary Williamson, of Byron Street, was found unconscious on June 14 in his cell at HM Prison Perth.
The 22-year-old, who was buried on Thursday, had been sentenced just a day earlier for breaching a previous bail condition.
The Scottish Prison Service has said a fatal accident inquiry will be held into his death.
His adopted mother, Mhairi Cameron, paid tribute to Gary who she said had a "bubbly" personality despite having lived a tragic life.
Gary's sister Catherine died from meningitis aged eight, before Gary was born.
When he was six, his mum Margaret died having had stomach problems, and, six years later, his dad Charles died of a heart attack.
Three months after that, his brother, Charles junior, known as "Chicky", took his own life aged 29.
With no immediate family left, Mhairi and her husband Peter – who is Gary's cousin – adopted him and took him in aged 11.
Mhairi, 35, said: "As hard as it is, I think he's in a place he wants to be, with his family.
"Although he lived a sad life he was full of life. But he was a bit of a lost soul with all the tragedy in his life. A lost soul, but a kind soul."
Former Craigie High School pupil Gary, who was a gardener, was laid to rest next to his brother and dad at Birkhill Cemetery following a service in the Hilltown.
Mhairi said the police had alerted them that he was unwell but the family weren't initially told how serious a condition he was in.
She said: "The CID came to us about 3am on the Thursday. They told us at that point he was ill in Perth Royal Infirmary.
"I had problems with my phone but when I got through to the hospital they told us how serious it was and to grab anyone close to him and to get there. We were told he wasn't going to make it."
Mhairi said with no brain activity detected, medics told the family there was nothing they could do for him. His life support was switched off at 10.30am.
She said: "I had to leave before they turned the machine off – I couldn't be there for that. I said my goodbyes and Peter and I left.
"We have been told it was a cardiac arrest, but they don't know if there were drugs or something else involved. We have to wait for the toxicology report and then a fatal accident inquiry."
She added: "Gary never really got over Chicky dying. He never understood him leaving him like that, I don't think.
"I'll remember his cheeky smile, especially when he was lying to you. He knew you knew he was lying and that would always bring a smile to his face. He knew how to make you laugh and would do anything for you.
"Gary was bubbly, outgoing, really helpful. And he liked to party with his friends.
"A lot of people will be lost without him. Loads of people have got in touch since he died.
"There are tributes on Facebook from his pals but I haven't watched the videos people have shared. I'm not ready to hear his voice again, yet."
Peter, 35, said: "Gary liked his young life, spending time with his friends. I had known him all his life with him being my cousin.
"He was a troubled soul because he lost his family. He did some daft stuff but he had a heart of gold. You could make him happy short-term, but long-term, he had lost too much.
"He never really got over his brother's death, he couldn't make sense of it. He loved being out working, outdoors, gardening, doing cladding, things like that.
"It was obviously very emotional when he died. It still doesn't seem real."
Mhairi added: "It hasn't sunk in I don't think. I don't want to believe it's real. I think it's because we don't know what happened to him.
"Once we do, then hopefully we can get some closure."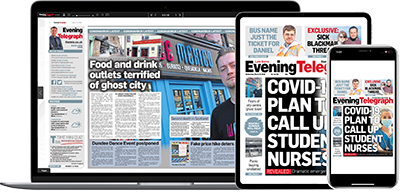 Help support quality local journalism … become a digital subscriber to the Evening Telegraph
Subscribe