It could be argued that alcohol and DIY don't go hand in hand – but one designer has proved they make the perfect combination.
Aymeric Renoud, 29, from the West End, has been using a former garden shed in Ardler to create some small items of furniture with the help of local breweries.
The former Duncan of Jordanstone College student has created items including coasters, tables and signs using juniper berries from Verdant Gin and barley from 71 Brewing.
While in his fourth year of study, Aymeric started to explore eco-design and sustainability while creating furniture.
He said: "Once I started to explore the topic I became quite interested in the concept.
"At the end of my degree I started to have the idea of developing a new material in furniture design.
"I found the idea of using waste from breweries and distilleries so I started my own experimentation."
Frenchman Aymeric, from Lyon, uses a water-based eco-friendly binder to create the hardtops of the units using the juniper berries and barley.
He said: "I mix the items with the binder and compress it at a high pressure and heat. Within half an hour the bowl is set.
"As far as I'm aware, I'm one of the only people to use the leftovers from making alcohol to create furniture pieces.
"Some of the breweries were a bit surprised when I collected their waste and I told them what I wanted to do with them.
"I've since been back and showed them my creations and they were even more surprised by the results.
"I've shown some to 71 Brewing and Verdant Gin and they were excited about the prospect of creating items out of their waste."
As well as designing his own unique furniture, Aymeric works for Kennedy Twaddle Architectural Design.
Gary Kennedy, of the firm, said: "I think it's brilliant."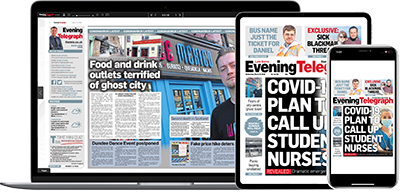 Help support quality local journalism … become a digital subscriber to the Evening Telegraph
Subscribe