A young aviation enthusiast has become the first local flying degree graduate to land a post with the largest independent regional airline in Europe.
Dundee-born Gavin Ritchie, 24, has been flying since the age of 14 and is one of the first batch of 53 students who will officially graduate from Tayside Aviation's BSc (Hons) professional aviation pilot practice degree at Middlesex University next June.
Having now completed the degree – the first of its kind available in Scotland – Gavin has become the first graduate to land a pilot post.
Due to the fast-track nature of the degree, Gavin could be on course to become a captain within two years.
Due to take up the position of first officer on the Dash 8 Q400 aircraft with Flybe tomorrow, Gavin was two years into the University of Dundee's mechanical engineering degree when he decided to switch to Tayside Aviation's flying degree.
He was already a familiar face with the award-winning family business, having been learning to fly in his own time since the age of 14, flying solo at the age of 16 and obtaining his private pilot's licence at the age of 17, the youngest possible age.
Gavin is bidding farewell to Tayside Aviation en route to his new base at Edinburgh Airport.
Having held the post of flight instructor since April last year, alongside his degree work, he has clocked up more than 1,000 flying hours.
Gavin went on to win the student of the year award from the Aviation Skills Partnership in 2015.
He said: "When I first heard about the degree, I felt this was the ideal route for me.
"It meant I could continue studying for a degree but also undertake commercial flight training, with the end goal of landing a job with an airline.
"The degree focuses on critical reflection and helps promote self-development throughout each flying stage.
"In a professional environment, this is very important for progressing through the flight training but also for developing skills as a flight instructor and airline pilot in the long term."
Gavin added: "I would definitely like to gain a captaincy in the coming years but also use my experience from flight instruction to progress to more senior training roles within the airline.
"I have a lot to thank Tayside Aviation for and will look back on my days here very fondly."
Flybe's chief pilot Stuart Mitchell added: "We are delighted to be one of the first airlines to employ one of the graduates from Tayside Aviation's inaugural flying degree programme and that such a clearly talented new pilot as Gavin has chosen to join us.
"We wish him and his cohort every success as they embark on their new careers with us."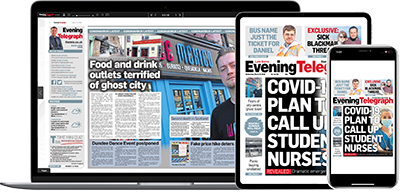 Help support quality local journalism … become a digital subscriber to the Evening Telegraph
For as little as £5.99 a month you can access all of our content, including Premium articles.
Subscribe