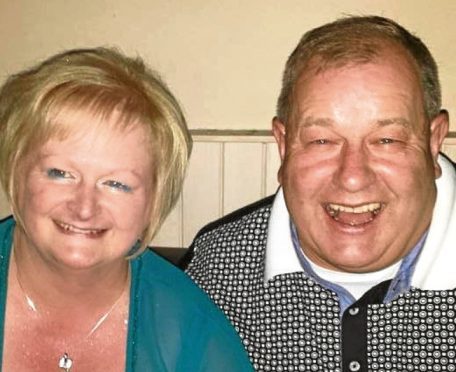 The wife of a Dundee man who died suddenly of a heart attack on the fourth night of his holiday has told how he said he loved her minutes before his death.
Alan Jamieson, 55, who lived in Ardler, died at a hotel in Gran Canaria following a meal with his wife Jacqueline.
Jacqueline, 53, who had been married to Alan for nearly 34 years, said he had become breathless on returning to their hotel room before collapsing.
She said: "The family are just completely stunned. He had recently had a medical to renew his HGV licence and there had been no sign of any underlying health issues.
"We went to Gran Canaria regularly and had been upgraded to the hotel's presidential suite this year.
"It was the fourth night of our holiday. We had come back from a meal and gone to the room just after 9pm.
"He had brought me through a bottle of water and said I love you before going through to watch the TV.
"The bedroom door was open. I could hear him struggling to breathe within a matter of minutes of him leaving the room.
"I tried to help him before phoning reception then heard a clatter as he fell off the chair.
"When I went back to check I knew instantly he was gone.
"I sat just holding him on the tiles speaking to him.
"Looking back, the only comfort I had was that we had a great last day together."
Alan was a well-known figure in amateur football and had been involved with a number of clubs in Dundee.
The former Kirkton High pupil (pictured, below, in his younger years) had played for clubs including Timex and Ss Peter and Paul before most recently managing Wellbank.
Alan, who had most recently been working for Harry Lawson as an HGV driver, had served in the Royal Corps of Transport in the 33 Squadron serving in Bunde, Germany.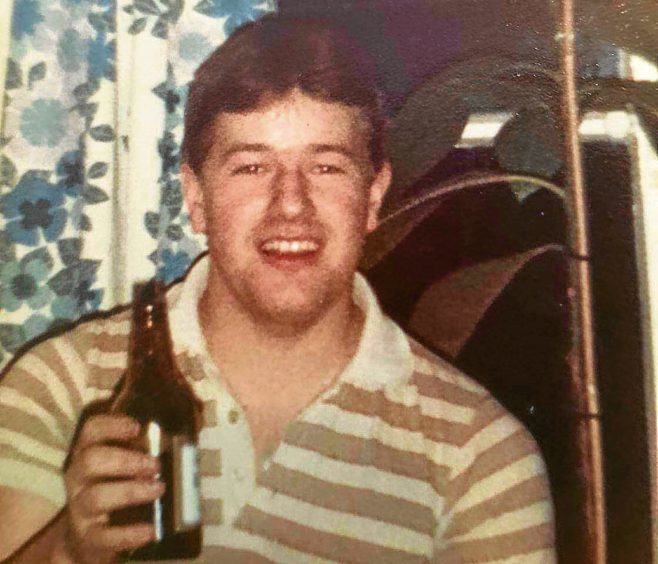 His brother, Campbell, said Alan had received an award for bravery in 2005 from then-First Minister Jack McConnell.
He said: "Alan was almost too nice. We worked together at CJ Lang. He met the First Minister and was given the award.
"He'd seen a woman have her handbag stolen from the cab of his lorry — so he jumped out and vaulted the fence to catch the thief."
Jacqueline, who got engaged to Alan within 14 hours of meeting him, said there were "no regrets" as she paid tribute to her "exceptional" husband.
She added: "Our 34th wedding anniversary would have been last Sunday. We had a happy marriage — I adored him.
"Alan adored his daughter, Julie, she was a real daddy's girl.
"We have been overwhelmed by the volume of tributes from members of the public.
"He loved life and was a huge Dundee FC supporter who had touched a number of people's lives.
"His funeral will be a celebration of his life. Although there was no warning there is some comfort in the fact it was sudden and there was no prolonged illness."
Alan is survived by Jacqueline, his daughter Julie, brothers Robert and Campbell and sister Arlene. He had a sister Wendy who died last year.
His funeral will be held tomorrow at St Mary Magdalene's Church, Dudhope Crescent, at 11.45am.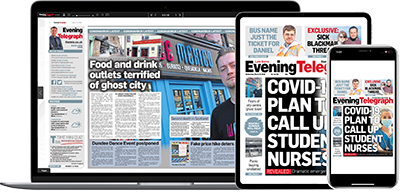 Help support quality local journalism … become a digital subscriber to the Evening Telegraph
Subscribe