A man was today ordered to stand trial accused of making an "improvised explosive device" in his home "with intent to endanger life".
Allan Peach was arrested on a DIY bomb charge after a major incident at his home in Carlochie Place, Dundee, on Thursday September 6 that saw army explosive ordnance officers evacuate houses within 100 metres of his property in the east end of Dundee.
Today Peach appeared in court facing five charges.
It is alleged that made and had in his possession an explosive substance, namely an improvised explosive device, with intent to endanger life or cause serious injury to property or to enable other person to do so.
He is further accused of possessing for sale CS spray and possessing for sale or hire a quantity of knuckledusters.
A fourth charge alleges that he had in hiss possession a weapon designed or adapted for the discharge of any noxious liquid, gas or other thing, namely CS spray.
A final charge alleges he illegally had possession of ammunition, namely airgun pellets.
Peach, 30, of Carlochie Place, Dundee, made no plea during a brief private appearance on petition at Dundee Sheriff Court today.
He faced five charges – one under the Explosive Substances Act 1883, three under the Firearms Act 1968 and one under the Criminal Justice Act 1988.
Sheriff Alison McKay fully committed Peach for trial and remanded him in custody pending further court dates being set.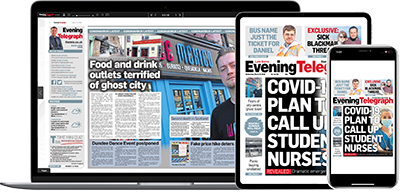 Help support quality local journalism … become a digital subscriber to the Evening Telegraph
Subscribe