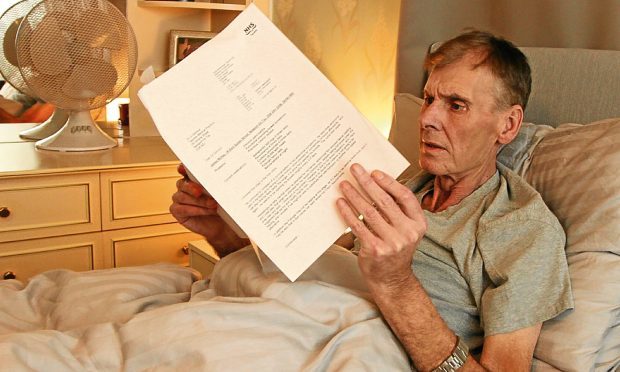 James McKay's two-and-a-half-year battle to find out what was making him feel ill was the "worst time of his life".
Now, the 54-year-old from Whitfield's fight is set to come to a tragic end — after he was told that he has just months to live.
The Dundee FC fan was initially diagnosed with pancreatic cancer on August 21 — but has only now learned what that means for his future.
It comes after a lengthy battle to discover what was causing him health problems — and follows numerous visits to medics who were unable to properly get to the bottom of his symptoms.
He was eventually diagnosed with the disease which is known by many experts as the "silent killer" as it's often so difficult to detect.
James said he had been having constant pain in his stomach since March 2015 but was regularly told he had irritable bowel syndrome (IBS) or stress.
In April last year, he was diagnosed with acute pancreatitis that later turned into chronic pancreatitis, after his organ had become inflamed — causing him "unbearable pain".
James told the Tele he had undergone rigorous checks in the last couple of years including four CT scans, three MRI scans, three colonoscopies and four gastroscopies as medics tried — without success — to discover the real source of his problems.
He said that despite more than 20 visits to Ninewells last year, he was even told that the pain may have been in his head.
He said: "These issues with my stomach had been ongoing since 2015. My fear was always that it was cancer but I was given countless reassurances that it wasn't.
"I feel like I've been ignored throughout this whole process.
"I think they were getting sick of dealing with me — I was in unbearable pain and I just wanted them to help. I was told on a number of visits that it was maybe being brought on by stress or I had issues with IBS.
"I even enrolled for anxiety classes at Stratheden Hospital as I started to doubt the pain I was in. As of May this year, I was still being advised I didn't have cancer by doctors.
"It wasn't until I developed jaundice in August that my GP had me admitted to Ninewells and I felt people started to take notice.
"But they were still saying it was unlikely it was cancer."
James received a further scan in August when a 4cm tumour was discovered on his pancreas.
He added: "Where the tumour was, it had wrapped around a main artery that meant it couldn't be removed." Despite that, James underwent surgery in October when he had half his bowel and half his pancreas removed.
He added: "I was told this week that I have six months to live.
"Hopefully I can get chemotherapy that could add another three months on to my life.
"I worked for the NHS for more than 20 years and I didn't want to complain about my treatment.
"Although no one is directly to blame, I feel they should have paid more attention to my concerns. I never want anyone to have to endure what I've been through. Now they've discovered what the issue is, they have brought the pain under control.
"If this had been detected sooner, I could have been looking at a completely different outcome."
An NHS Tayside spokeswoman said: "Due to patient confidentiality, we are unable to comment on matters relating to individual patients, but will contact Mr McKay direct to understand his concerns."
'Silent killer' affects 10,000 in the UK
Affecting nearly 10,000 people in the UK, pancreatic cancer is described as one of the toughest forms of the disease to treat, diagnose and research.
Pancreatic Cancer UK has estimated 80% of people with the disease are not diagnosed until it is at an advanced stage.
Since the 1970s, the survival rate for pancreatic cancer sufferers has improved very little.
It's estimated that 26 people are diagnosed with the disease every day.
Experts believe that only 8% of patients have surgery, which is the only treatment.
It is the fifth most common cause of cancer death in the UK.
A recent survey indicated that just 7% of people with pancreatic cancer will survive more than five years.
The shocking figures come as Pancreatic Cancer UK said only 35% of adults would not be worried if they had a few potential symptoms.
Dianne Dobson, a nurse for more than 27 years, most recently worked with a surgery team at a specialist centre in London.
She has supported patients having surgery for pancreatic cancer.
She said symptoms included tummy and back pain, unexplained weight loss, indigestion and changes to bowel habits.
She added: "Other symptoms can include loss of appetite, jaundice (yellow skin or eyes or itchy skin), feeling and being sick and recently diagnosed diabetes.
"We don't want people to panic if they have some of these symptoms, as most people who experience them won't be diagnosed with pancreatic cancer.
"But it is important that people take the symptoms seriously if they have them and visit their GP, so that the disease can hopefully be ruled out."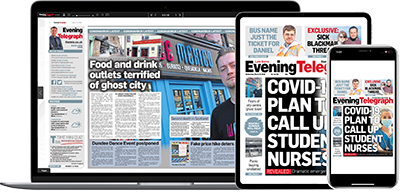 Help support quality local journalism … become a digital subscriber to the Evening Telegraph
For as little as £5.99 a month you can access all of our content, including Premium articles.
Subscribe