A man appeared in court today accused of attempting to murder a golfer with a chainsaw.
Joe Henry Brown is then alleged to have repeatedly assaulted another man to the danger of his life with a "taser" disguised as a mobile phone.
Brown is accused of the murder attempt on 61-year-old golfer Arthur Innes at Dundee's Caird Park golf course at around 4pm yesterday.
He is also alleged to have then assaulted Andrew Hay, 60, at nearby Mains Loan, repeatedly striking him with a working taser and knocking him to the ground.
The 44-year-old appeared in private on a petition alleging four charges at Dundee Sheriff Court today before Sheriff Christopher Shead.
Brown, 44, of Graham Court in Dundee, is alleged to have, at Graham Court, behaved in a threatening or abusive manner likely to cause fear or alarm, shout, swear, brandished a chainsaw, acted in an aggressive manner and placed people in a state of fear and alarm.
He is further accused of assaulting Mr Innes at Caird Park on May 2 by repeatedly striking him on the head and body with a chainsaw with its engine running, all to his severe injury, permanent disfigurement and attempted to murder him.
Prosecutors further allege he assaulted Andrew Hay, aged 60, at Mains Loan, repeatedly struck him on the body with an activated taser, attempted to punch him on the head, pushed him on the body causing him to fall to the ground, to his injury and danger of his life; and at Mains Loan, possessed without lawful authority a firearm which was disguised as a mobile phone.
Brown is alleged to have committed the offences while he was on bail, having been granted bail at Inverness Sheriff Court on February 6, 2018.
Brown's solicitor Ross Bennett made no plea on his behalf and also made no motion for bail.
The accused was remanded in custody while the case was continued for further examination.
He is expected to appear in court again next week.
Around 10 police cars as well as ambulance crews raced to Caird Park around 4pm on Wednesday after reports of a man having been attacked with a chainsaw.
Police said Mr Innes was taken to Ninewells Hospital with serious but not life-threatening injuries following the incident.
It is understood he remained there today receiving treatment for his wounds.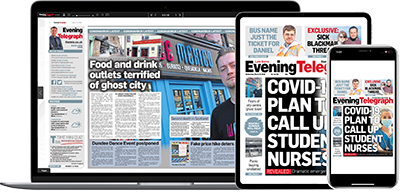 Help support quality local journalism … become a digital subscriber to the Evening Telegraph
For as little as £5.99 a month you can access all of our content, including Premium articles.
Subscribe