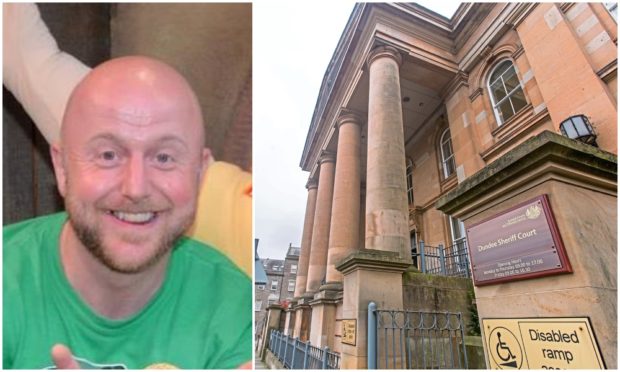 A man has been found guilty of sexually assaulting two children.
Barry Ward, of Seaforth Crescent, was convicted of molesting the youngsters between August 2016 and May 2018.
Dundee Sheriff Court heard the 39-year-old said he was "shocked" and "stunned" when the allegations were made, claiming his life "has been changed forever".
Ward was accused of sexually assaulting the first child by placing his hand on the child's leg and touching the child inappropriately in his car.
He was also found guilty of attacking the same child at McDonald's in Ethiebeaton by rubbing the child's leg, placing his hand around the child's waist and kissing the child on the cheek as well as placing his hand around the child's waist and kissing them on the forehead at an address in Seaforth Crescent.
The alarm was raised after one of the children told their parents and described Ward as "creepy".
Ward claimed that he was comforting the child who had opened up about being bullied.
Fighting back tears when giving evidence, Ward said police raided his house to search for child pornography but found nothing.
He said: "I was totally shocked and stunned when the police arrived.
"I just felt my life had been turned upside down. I've never done anything to hurt anyone. I've always been a very caring person.
"From that day my life has been changed forever. Police also swooped my home.
"They did a swoop for child porn, searched every device and didn't find one thing. There was nothing to find.
"It's been the longest and hardest six months of my life."
When asked by defence solicitor John Boyle if anything sexual had occurred between him and the children, Ward replied: "No."
Ward denied sexually assaulting the second child during the same time period by rubbing the child's leg with his hand.
He argued there "wasn't anything sinister" in his contact with the children and insisted it was a "caring gesture".
In determining her evidence, Sheriff Jillian Martin-Brown said she believed Ward was not a credible witness and found him guilty on four charges of sexual assault.
Ward broke down in tears and shook his head in disbelief before being comforted by friends and family in the public gallery.
Sentence was deferred for social work reports until December 19.