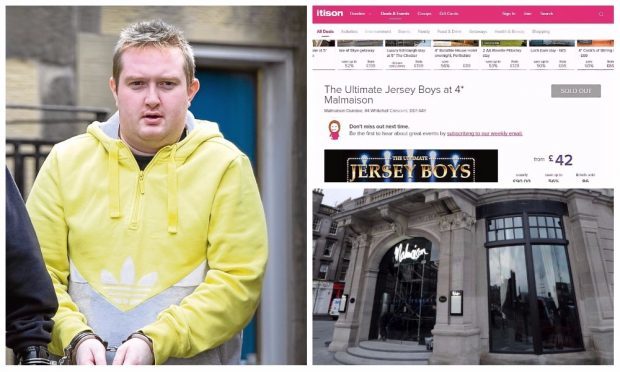 Bosses at a swanky Dundee hotel have pulled the plug on a £113-a-ticket bash — after serial fraudster organising the do failed to make a payment.
Christopher Ireland, 34, has twice been jailed after swindling individuals and companies in Tayside out of tens of thousands of pounds.
Earlier this year, he was banned from being a company director for seven years following a probe by the Insolvency Service linked to the liquidation of a telecommunication and travel firm he had set up — which racked up £52,000 of debts.
Now, the Tele can reveal that Ireland is the owner of another firm which offers a series of services — from entertainment and events to travel, plumbing, online dating, broadband and security.
The firm, ScotBoys TartanCastle Group of Companies (SBTC Group), is behind a number of music events being planned in Dundee.
One of those, The Ultimate Jersey Boys Live, was booked for November 17 at the Malmaison hotel, with briefs costing £113 online.
Ireland's website claimed the event, which offered entertainment and a meal, was sold out — with more than 80 tickets also sold through offers site itison.
But after the serial fraudster failed to make a payment to Malmaison, bosses cancelled the show. Itison says its customers will get their money back automatically.
A spokesman for the hotel chain said: "Malmaison Dundee has recently been made aware of historical matters relating to the organiser of proposed events at this hotel.
"The hotel has been in discussions with the organiser of these events. The welfare and enjoyment of all those visiting Malmaison hotels remains paramount to our brand."
The Tele found no record of SBTC Group at Companies House, though a VAT number provided by Ireland through his website was registered to that name. A series of other firms Ireland used to be involved with have been dissolved in recent years.
We can also reveal that Ireland has been making apparently spurious claims on his company's website about links to various performers and other firms.
Ireland, who says he's a doctor with a PhD, lists various "entertainments" under the 'services' section of the site, featuring the names of dozens of singers, pop groups, celebrities and DJs.
They include Inbetweeners actor James Buckley, American socialite Brody Jenner and music acts Tinchy Stryder, Alexandra Burke, Blue, S Club and the Cheeky Girls. Also listed are pop legends such as Brotherhood of Man, Bucks Fizz, Sandie Shaw and Lulu — as well as various tribute and drag acts.
Meanwhile, under the travel section of Ireland's website, there are links to holiday "deals" that take the user to Barrhead Travel's website.
An application form on the SBTC Group site, offering new suppliers the chance to work with the company, lists offices in Loons Road, Dundee, and in London, along with phone numbers for New York, Los Angeles, Melbourne, Sydney, Dublin, Malaga and Belfast.
When the Tele called these, all of them rang out and then failed to connect to any person or system.
We made contact with Ireland at his Dundee base and he claimed that his director ban had no relevance to his new firm as it was "not limited nor a registered limited company".
With regards to the show being called off, he said: "Malmaison cancelled as we missed our payment and when we went to do it they said it was over the time, and they have cancelled all events.
"We have an email from the general manager to confirm this.
"We are now taking legal action for breach of our contract and supplier terms.
"The event is still going ahead at a new venue which is still to be confirmed, and everything is still on plan.
"Our ticketing supplier has refunded tickets due to the cancellation and they emailed us to this effect."
When asked why his website was displaying links to holiday "deals" on Barrhead Travel's website, he said: "We have no idea why this is on our site and I will get our web guys to look into and remove everything during updates at the weekend."
And when probed on why he listed various famous names under the entertainment section of his site, Ireland told the Tele: "We have agents in London we use to supply these and do not deal with acts directly at present."
He wouldn't specify which agents his firm used, adding: "We deal with many different agencies for different acts."
The Tele contacted several of the acts listed on Ireland's website to ask about his company's links to them.
Management for the Cheeky Girls said they had never worked with anyone other than their own record lable and agency since 2003 and denied they'd had any dealings with Ireland.
There were similar responses from representatives of Brotherhood of Man and Sandie Shaw, a spokesman for the latter saying he had "no right to put her name on his website".
Meanwhile, Barrhead Travel said it had no associations with SBTC Group and would take action to have the links removed.
Fraudster's two stints behind bars
Ireland was jailed in September 2008 for three years after a jury at Dundee Sheriff Court found  him guilty of defrauding and attempting to defraud businesses and individuals of more than £200,000.
He was then sent to jail for a year at Perth Sheriff Court in April 2012 for a fraud scheme worth nearly £50,000.
On that occasion he admitted hatching a plan to become an entrepreneur by entering into apparently bona fide contracts with companies across the country using cheques from empty bank accounts.
At his then home address of Victoria Street, Perth, and elsewhere, he fraudulently obtained the money from five businesses.
He first contacted a Glasgow-based chartered surveyors inquiring about renting a business premises in Perth and then secured a lease, handing over a cheque as an initial deposit, which later bounced.
Also using worthless cheques, Ireland fraudulently secured more than £3,000-worth of book keeping services from a firm in Perth, nearly £2,500 worth of printing services from another company, rewiring work of about £2,500 from a local firm and more than £33,000 of furniture, stationery and other goods from a supplier.
Ireland's director ban came into force on March 21 this year after an investigation by the Insolvency Service found he had "breached his statutory obligation to co-operate with the Liquidator and deliver up the company's accounting records" in relation to firm ScotBoys Group PLC.
It came after the business was put into compulsory liquidation in September 2015 with liabilities of £52,106.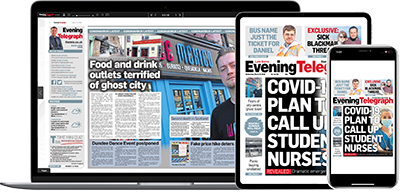 Help support quality local journalism … become a digital subscriber to the Evening Telegraph
For as little as £5.99 a month you can access all of our content, including Premium articles.
Subscribe