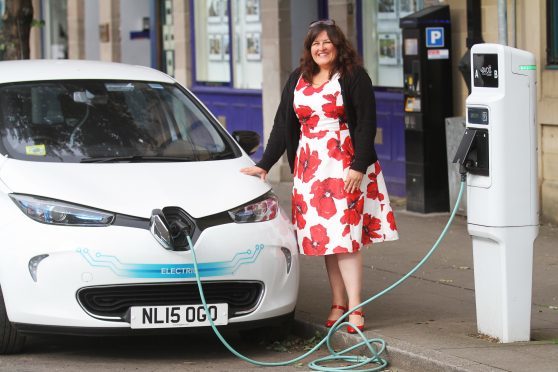 Dundee is leading the charge in electric vehicle sales compared to other areas of Scotland, new figures have revealed.
Data provided by car industry body the Society of Motor Manufacturers and Traders (SMMT) revealed that sales of pure electric cars almost doubled in the city in 2017 compared with the year before.
In comparison, total electric vehicle sales in Scotland rose by just a third.
Diesel and petrol sales were down, but other "alternative fuel vehicles" such as hybrids were also up.
Councillor Lynne Short, city development convener and a prominent supporter of electric car usage, said the figures vindicated early investment by Dundee City Council in car charging infrastructure.
She said: "What this data says to me is that the fear factor other places have with regards to range isn't an issue here in Dundee. People here know we have that infrastructure.
"We're working with other councils in the area so people in, for example, Angus know they can drive their car in and around the area and have access to free parking in the city centre.
"It brings home the fact that we're in a formidable position."
Delegates from the Welsh Government are set to visit Dundee next week on a fact-finding trip to learn more about the city's approach to electric cars.
Ms Short added: "People are looking to us to see how to do things and it's really reassuring that our confidence is filtering through to people when they are buying vehicles."
A total of 31 pure electric cars were sold in Dundee last year, up from 16 the previous year.
Meanwhile, sales of petrol-electric hybrids — cars with petrol engines which also use a small on-board battery — increased from 67 in 2016 to 100 in 2017.
A total of 21 petrol plug-in hybrids, which can also be charged from the mains, were sold last year, up from 15.
Six range extender petrol cars — which use petrol to generate electricity, rather than to drive the wheels — were also sold in 2017.
The news was not so good for conventionally powered petrol and diesel cars, whose sales slumped in comparison with more modern vehicles.
Petrol car sales fell by 7% from 4,149 to 3,856, while diesel car sales plummeted by more than a fifth to 1,747 from 2,196 in 2016, likely affected by what the SMMT branded "anti-diesel rhetoric" and suggestions that diesel owners could soon pay more tax.
Total car sales in Dundee were 10% lower than they were a year ago, reflecting the national trend.
Mike Hawes, chief executive of SMMT, said: "2017 was undoubtedly a very volatile year and the lackluster economic growth means that we expect a further weakening in the market for 2018.
"The upside for consumers, however, is some very competitive deals."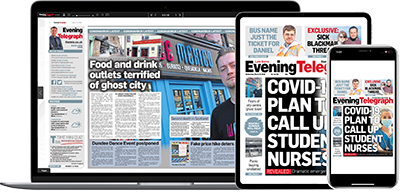 Help support quality local journalism … become a digital subscriber to the Evening Telegraph
Subscribe