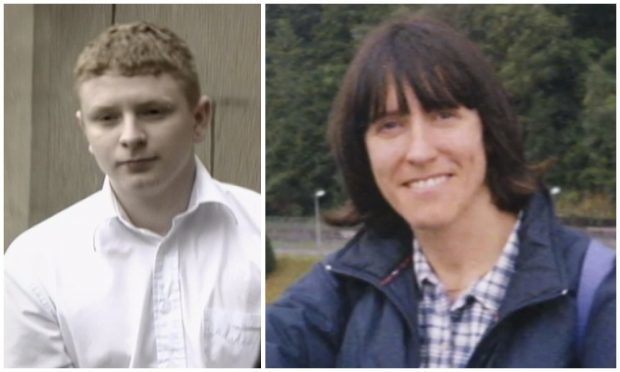 The sister of Anne Nicoll, the first victim of convicted murderer Robbie McIntosh, has revealed she objected to him being granted day release more than two years ago.
Linda Nicoll told the Tele that back in 2015 she received a letter from the Scottish Prison Sentence (SPS) asking if she would have any objections if McIntosh was granted prison leave.
McIntosh, 31, admitted brutally attacking Linda McDonald in Templeton Woods on August 7 this year by repeatedly striking her on the head with a dumbbell.
He had been jailed for life aged 16 for the murder of Linda's sister, on the Law in 2002.
But despite Linda's previous objections, McIntosh had been granted a day release from prison when he attacked Mrs McDonald.
Speaking exclusively to the Tele, Linda said: "In 2015 I wrote back saying I definitely would object and at that time it wasn't granted. However, we didn't receive any notification this time that he was to be released.
"I was disgusted to learn that he was out. I strongly feel that we should have been told he was getting out on day release."
Linda said the recent publicity and court case following Mrs McDonald's attempted murder had brought the events of 2002 all back for her family.
She has vowed she will now do everything possible to bring about a change in the law that Robbie McIntosh andallowed McIntosh to be granted day release.
She said: "This has been horrendous for us and has brought back all the emotions we felt at the time.
"We're so sorry for Linda McDonald and her family and what they have suffered at the hands of Robbie McIntosh.
"I was shocked to hear about what happened but I wasn't surprised.
"When Anne was killed, a senior police officer told me McIntosh would always be a risk and he would be very concerned about him being released. That has always been at the back of my mind."
Revealing that she had been in touch with Mrs McDonald's family, Linda said she would urge them to fight for answers which are so far being denied to them.
And she slammed the SPS for its refusal to release information about the killer — because it might cause him "distress".
As previously reported, the Tele submitted freedom of information requests to the SPS asking for details of the locations McIntosh visited during his release and the length of time he spent out of prison.
But the SPS refused to release these details and — in its response to the Tele — said that the information could cause McIntosh and his victims "substantial and unwarranted damage or distress".
Linda said: "I'm absolutely disgusted that Linda McDonald and her family are being denied answers about why McIntosh was granted day release that allowed him to carry out the attack."
Revealing she had written to Justice Secretary Michael Matheson with her concerns, she added: "We were denied answers when Anne was killed and we can't believe the authorities still seem determined to protect McIntosh."
A spokesman for the SPS confirmed victims who were registered were notified about the imminent release of prisoners.
He said: "They can make comment and observation which could be considered and may lead to specific conditions being attached to a licence for release."
It's understood the Nicolls were notified in 2015.
Demand for answers about killer's release
Robbie McIntosh, 31, battered Linda McDonald with a dumbbell as she walked her dog through Templeton Woods in Dundee on August 7 this year.
He only ran off when two passersby heard her screams and rushed to help.
He launched the savage attack on the 52-year-old after being freed from Castle Huntly open prison on a week of home leave ahead of a parole board hearing.
The killer was jailed for 15 years in 2002 for murdering Anne Nicoll as she walked her dog on Dundee Law on August 2 2001, stabbing her repeatedly.
McIntosh, who was 15 years old at the time of the murder, was given a life sentence and ordered to serve a minimum of 15 years in prison.
He was given home leave on August 2 — the 16th anniversary of Anne's murder — and attacked Mrs McDonald only five days later.
Linda McDonald's husband Matthew demanded answers from the Scottish Prison Service (SPS) and the Parole Board about the attack.
He said: "Given his past conviction for a brutal murder, I can't believe the Scottish Prison Service deemed that this sick individual, who attempted to murder my wife, was allowed to be in the public domain.
"The fact that they did raises serious questions about the criteria followed by the appropriate authorities, and if there had been strict monitoring, supervision and tagging in place we wouldn't be going through this hell."
Mr McDonald said the SPS and Parole Board should "at least review" their release criteria and assessment systems.
McIntosh admitted attempting to murder Mrs McDonald at the High Court in Edinburgh in October.
He has not yet been sentenced.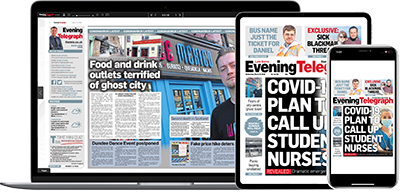 Help support quality local journalism … become a digital subscriber to the Evening Telegraph
Subscribe