Dundee labourer David Short says he's "over the moon" after scooping £10,000 in the Tele's Golden Wallet jackpot draw.
David, from Fintry, said he hadn't expected to go to bed thousands of pounds richer after his name was announced in the Tele's live draw.
The 57-year-old labourer for Dundee City Council entered both Golden Wallet draws.
After the £10,000 grand prize went unclaimed in the first draw, he decided to try his luck with the second.
He popped his entry voucher in the post with a second class stamp — and it changed his life.
He said: "I entered the first time around and got nothing but a Wispa. I just thought I would give it another go and see what happened.
"It only cost me a second class stamp and I'm absolutely over the moon."
David celebrated his win with his dad Peter, who lives in Forfar and has dementia.
He is planning on spending some of his winnings travelling over to Slovenia next month to watch Scotland play in their final World Cup qualifier.
In addition, he said the cash prize would ease the burden of having to pay to have his roof redone at home.
He added: "Because my dad has dementia, I don't often get a weekend to myself and I care for him a lot.
"I think I'll be booking myself a holiday and going to the last Scotland qualifier in Slovenia.
"A few of my mates were already going, so it's good to be able to head over and join them.
"I'm getting my roof retiled too so this will help take care of that."
More than 3,000 people sent in entry vouchers for the Tele's Golden Wallet £10,000 jackpot competition in their bid to claim the grand prize.
A live draw was beamed out on Facebook at 2pm on Friday during which David was revealed as the winner.
He added: "I didn't expect to win at all.
"You always hope that you will, but I've never won anything like this before in my life.
"I never thought when I wakened up on Friday morning that I'd go to bed £10,000 richer."
Over the past several weeks, the Tele has run the Golden Wallet competition.
There was a total of £50,000 up for grabs, with cash prizes ranging from £50 to £1,000.
As part of the giveaway, which started on August 18, a gold wallet was inserted in the Tele.
Inside, there could either be a cash prize — including the £10,000 ticket — or a consolation of a Wispa Gold chocolate bar.
Winner of the Tele's £10k Golden Wallet jackpot set to be revealed LIVE TODAY on our Facebook page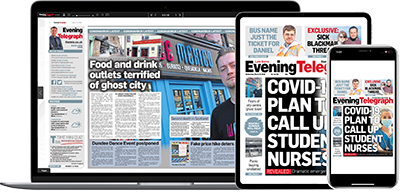 Help support quality local journalism … become a digital subscriber to the Evening Telegraph
Subscribe