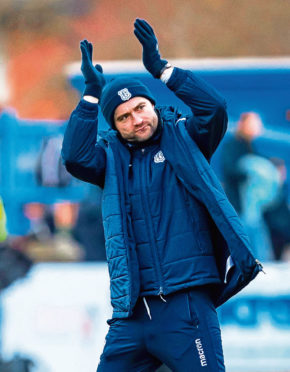 The uncertainty around the Scottish game right now is the hardest thing to deal with from a football point of view, according to Dundee boss James McPake.
Matches ground to a halt two and a half weeks ago as the seriousness of the coronavirus pandemic became more and more apparent.
Government restrictions have grown ever tighter since in an attempt to curb the spread of Covid-19 with only key workers now allowed to travel into their workplace.
With infections continuing to rise, getting back to something approaching normal society looks a distant possibility, and the Scottish football authorities have been reluctant to make any definitive judgments as to how things will proceed in the game.
With no real date to work towards for a return to playing games, it's a frustrating time for football managers, though McPake is well aware of the huge problems facing the world.
He said: "The difficult thing is the uncertainty.
"At the start we were told the games wouldn't be played the weekend coming so we were still in our heads thinking we had to prepare for Inverness the following week.
"We had a rough idea it wasn't going to get played but we couldn't be sure of it.
"A few of the boys wanted to train but then we got the guidelines from the SFA to say we shouldn't be training.
"That's an issue in football but not one in the rest of the world, I know.
"In pre-season you know when the games are starting and how many weeks you have to prepare for the first game.
"At the minute, we have no timescale at all which is difficult. Do you keep the players ticking over on their own or rest?
"The most important thing, though, is the health of everybody – as a club we are doing everything to look after our players and our staff, that's paramount.
"There's not many times when I'll say football isn't important but it isn't right now."
---
To listen to the Tele's football podcast, Twa Teams One Street, download from Apple Podcasts or Spotify – or head to thetele.co.uk
---
The Dundee players have been given individual training programmes to work on at home but, with government advice to stay indoors as much as possible, it's not easy for some.
"As a club we have set up individual programmes for the players but the trouble with that is a lot of the work is on treadmills or exercise bikes and not everyone has access to them," added the Dens boss.
"Otherwise you're asking them to go out and do bits in the park and the advice is now not really to do that. It's a tough situation we are in.
"As a workplace we are following the government guidelines and our medical staff are really good."
Dundee boss James McPake identifying transfer targets for next season despite coronavirus shutdown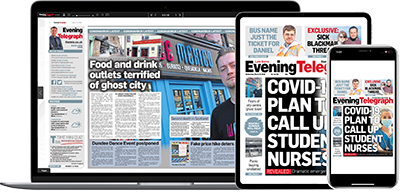 Help support quality local journalism … become a digital subscriber to the Evening Telegraph
For as little as £5.99 a month you can access all of our content, including Premium articles.
Subscribe