This time last year, the Dundee Partnership unveiled its plan for making the city a better place to live and work across the next decade.
One year on, the Tele is looking at the progress of the City Plan across the course of five exclusive interviews.
Today we speak to Alison Henderson, CEO of Dundee and Angus Chamber of Commerce, about how the plan is supporting the economy in the city.
Over the last couple of years, Dundee has started to embrace its new-found identity as a cultural tourism destination.
And with visitors now arriving in droves the green shoots of growth are starting to show.
In the year since the launch of Dundee's City Plan, an additional 1,000 jobs have been created in the tourism sector.
Chief among those contributing to the growing number of jobs are new restaurants and bars, hotels such as Sleeperz and Hotel Indigo and, of course, V&A Dundee.
However, while tourism is key to Dundee's future growth, it's only one piece of the puzzle – and the city is being clever in how it spreads that growth, according to business guru Alison Henderson.
The number of jobs in so-called "growth sectors", which attract more investment than other industries, has risen from 13,700 to 14,140 in one year.
"We have well-established creative and digital industries here but the good thing is that we're seeing lots of businesses interested in design thinking thanks to the likes of the V&A," Alison said.
"Companies such as Waracle are looking at the 'internet of things' – the way in which modern, web-connected devices communicate with one another – and firms are also exploring 'big data', the idea of using large volumes of information to predict changes to, and improve, people's lives.
"We have to ensure people are creating the right jobs.
"We could also really do with improving growth and making sure businesses aren't running out of steam, and keeping people and graduates in the city."
By way of setting an example, the Chamber of Commerce moved into a new, bigger office space at City Quay in March.
And in the next decade, work is set to continue on growing other industries across the city, including oil and gas decommissioning and encouraging uptake of STEM subjects at D&A College.
The Tay Cities Deal, if agreed by the UK Government, will also bring millions of pounds of investment into Dundee, creating projects such as a comic museum and creative centres.
However, Dundee continues to face challenges in employment: a third of working-age locals don't have jobs and the figure is rising.
Alison says the prospect of making Dundee a Living Wage City – akin to Fairtrade status – could both attract well-meaning employers and boost earnings giving locals "confidence" to spend.
But there is also the uncertain spectre of Brexit hanging over the city's future.
The UK is set to leave the European Union in six months' time with no agreed deal in sight and it is believed the uncertainty has already led to investment going elsewhere.
Alison added: "Businesses are already planning for all outcomes. We are as much a customer of Europe as we are an exporter. We've got to know what the trade terms will look like and just get on with it now.
"We also have a very large European workforce who need clarity on if they can stay."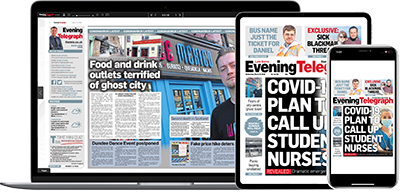 Help support quality local journalism … become a digital subscriber to the Evening Telegraph
For as little as £5.99 a month you can access all of our content, including Premium articles.
Subscribe