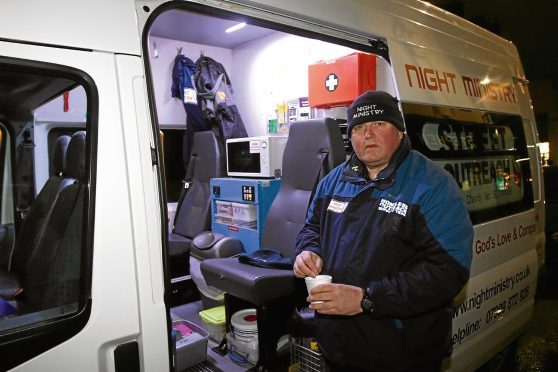 A charity which helps the homeless has thanked the public for donations of sleeping bags and £920 to refurbish life-saving equipment.
The Night Ministry Street Angels patrol the streets of the city, helping people who sleep rough.
After a recent appeal for donations which was highlighted in the Tele, the charity received 26 sleeping bags and £920 in the space of a week, which will be used to renew the pads and battery of the organisation's defibrillator.
The equipment is used in an emergency to try to restart someone's heart if they go into cardiac arrest.
The donations have come following a report from Dundee City Council which showed that 100 people a month presented themselves as homeless in Dundee in 2016/17 — almost twice the national average.
Gareth Norman, from the charity, said: "Like a fire extinguisher in your home, you hope never to have to use a defibrillator, but it's reassuring to know that should circumstances dictate it's there to help save lives. The parts for the defibrillator have been ordered and should arrive on Wednesday.
"As recent figures show, the need for voluntary services such as Night Ministry Street Angels is great.
"The donations came just at the right time.
"One guy came to us on Thursday evening, after the heavy rain, when we had just taken in a load of the sleeping bags. He sleeps rough and his sleeping bag was soaked through.
"Thanks to all who made donations — we couldn't do our work without their support."
Gareth said that as well as helping homeless people, the charity has been able to assist young people making their way home in the early hours after nights out, some of whom were the worse for wear with alcohol.
Anyone wishing to donate or lend a hand to the group should contact Gareth on 07999 872 928 or visit the group's website, www.dundeechaplains.org.uk