Dundee homeless charity Night Ministry Street Angels has made an online wishlist of items it is asking members of the public to buy.
The wishlist is for goods from Amazon and Dundonians have already come up trumps.
Gareth Norman, of the Night Ministry, said among the items already bought for them was a crate of Pot Noodles.
Gareth said: "Thank you to whoever purchased the case of Pot Noodles from our Amazon wishlist, our street friends really enjoyed them."
He said that also on the wishlist were items necessary for the cold winter months later in the year.
He said: "Sleeping bags, socks, thermal mats, blankets and underwear are all on our list.
"We are asking for those now in the lead-up to the winter months ahead.
"We are also asking for donations of soup, coffee, sugar and other food items, as well as things such as plasters and paper cups.
"Hopefully anyone who can afford to do so will help us out and buy things from our wishlist.
"Without your financial donations and donations from our Amazon wishlist we wouldn't be able to provide this humanitarian support.
"I will be updating the wishlist and if you are in a position to donate we would be very grateful."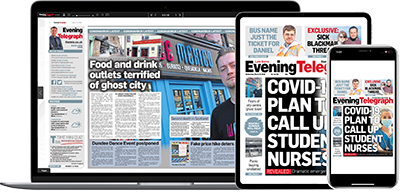 Help support quality local journalism … become a digital subscriber to the Evening Telegraph
For as little as £5.99 a month you can access all of our content, including Premium articles.
Subscribe