Members of a local gymnastics club have been forced to train in their pyjamas due to freezing temperatures in the gym hall.
Alan Tenbruck, 39, from Monifieth, said his daughter Lucy, 7, has been forced to train in her onesie because of extreme temperatures in the Dick McTaggart Gymnastics Centre.
Lucy has been a member of the Dundee Gymnastics Club 2K for the last two years.
Alan said: "This has happened on numerous occasions.
"The temperature reading inside the building was 11.8C. They can't do their proper training. How is this happening?
"The instructors are having to teach them in big puffer jackets – it's a joke.
"They look like they are going away on a skiing expedition.
"Kids have been advised to wear onesies to do their training.
"We had to go to Asda Kirkton and buy Lucy a onesie while she was training because it was that cold.
"She's got her first competition in March and she can't get the proper training."
Training had to be cancelled early both on Thursday and Friday last week due to the temperature.
Alan added: "I wouldn't put my little one outside in winter and it feels colder in there than it does outside.
"They are gymnasts and it's like a giant slumber party."
Club manager Paul Carson said the optimal training temperature for gymnastics is 18C and a minimum of 16C.
He said: "The minimum temperature for a facility is supposed to be 16C so it means we can't do anything other than basic conditioning training because it is too cold to heat the muscles up."
Dundee Gymnastics Club 2K competes at the top level and sent a team to the Malar Cup in Sweden in November.
A Dundee City Council spokesman said: "We have identified a fault and this is scheduled to be repaired as soon as possible."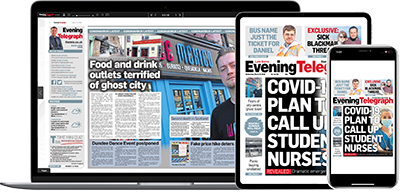 Help support quality local journalism … become a digital subscriber to the Evening Telegraph
Subscribe