A Dundee funeral director has launched an appeal to help collect toys for children who may otherwise not receive a gift this Christmas.
Millar Family Funeral Directors have been collecting toys for disadvantaged children for more than 10 years.
People are being invited to donate gifts to the Graham Street business by Wednesday December 19.
The firm's Graham Millar said: "The festive season is traditionally a time for celebration and exchanging gifts with family and friends, but for some families there may not be a lot to celebrate this year.
"The rising cost of living has meant that many families are struggling to provide heating and food, so the added pressure of Christmas can very quickly become overwhelming, but every child deserves to wake up on Christmas morning to at least one gift.
"Therefore, we are asking people to donate an unwrapped gift, no matter how small, suitable for a girl or boy aged three months to 16 years.
"All gifts will be handed over to Dundee Social Works Department to be distributed to children who may otherwise have very little to celebrate on Christmas morning.
"The people of Dundee never fail to amaze us when it comes to helping out with things like this, and we will be very grateful for any gifts received for the children.
"Hopefully, we'll help put a smile on child's face this Christmas."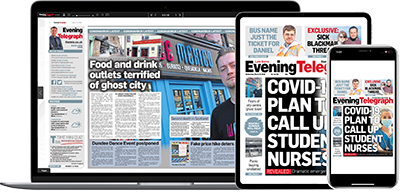 Help support quality local journalism … become a digital subscriber to the Evening Telegraph
Subscribe