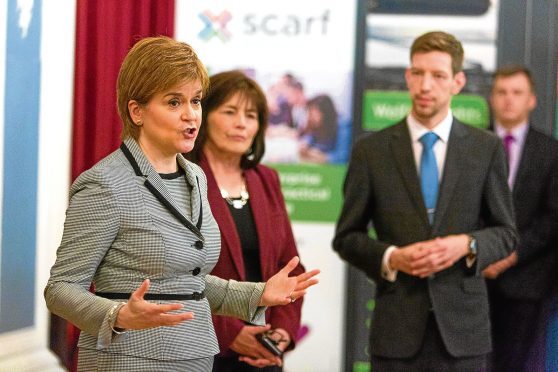 Dundee fought off competition from 13 other areas of Scotland to secure hundreds of jobs through a new national benefits agency, it can be revealed.
First Minister Nicola Sturgeon announced that the city is set to welcome at least 750 benefits jobs when the agency sets up its headquarters in the City of Discovery in 2020/21.
A total of 1,500 roles will be split between Dundee and Glasgow.
Staff will administer 11 different benefits as part of powers being devolved from London.
The Scottish Government has now released analysis that helped Holyrood chiefs decide where to take the jobs.
It reveals how 15 local authority areas were in the running for the jobs before the field was whittled down to just two.
A range of factors were considered — including the areas having an accessible workforce, along with the number of benefits claimants and the levels of deprivation in the area.
A report by the Scottish Government said that Dundee had good transport links, allowing access from areas in Angus, Perth and North-East Fife. It was also looked on favourably because of its high population density — meaning it would be able to recruit more easily than larger council areas where residents are more spread out.
The Scottish Government also found that Dundee had the lowest skills gap for administrative and clerical roles than any local authority in the country.
Meanwhile, it pointed out that although the rate at which unemployment in the city had fallen was among the best in Scotland, Dundee still has an employment rate of 66% — one of the country's lowest — only better than North Ayrshire at 64%.
The analysis also found that a substantial number of residents in Dundee commute elsewhere for work — while the city's business climate is "relatively weak".
Dundee's high levels of poverty and benefits claimants were also factored in, with more than 11% of city residents claiming disability benefits.
City leaders said this week that the Scottish Government's decision to come to Dundee was a "vote of confidence in the city".
However, councillors in Aberdeen and North Ayrshire, which both made the "top 10" list for the most suitable areas for the benefits agency to be based, have since criticised the move — claiming that each of their areas have been forgotten by the SNP administration, and claiming that the benefits would have been greater to their council areas than they will be in Dundee.