An SOS has been issued by Dundee Foodbank for more supplies as hundreds more people are forced to turn to the service to feed their families.
Manager Ken Linton said the foodbank was making a desperate appeal for donations as its cupboards were becoming bare.
He said: "More people than ever have used our service this year and we are concerned that this is going to get worse as winter approaches and people are forced to choose between food and heating."
Mr Linton said that since the start of the year, the foodbank had distributed 5,230 food parcels, 1,500 of them to children.
"That is an increase of 300 in the number of parcels we have handed out compared with the same period last year," he said.
He added that in the five months since April, the charity had distributed 3,222 food parcels, 900 of them for children.
During the same period last year, 2,507 parcels – including 720 for children – were handed out.
Mr Linton said: "We don't really know the reason for the increase but we are aware that many of these parcels are going to low income families.
"These are families where the parents are going out to work but they are not earning enough to provide food.
"This is a very worrying situation which we fear will get worse as the weather gets colder and people have to make the choice between feeding their families and keeping them warm.
"Many people are going out of their way to go out to work to provide for their families but low wages mean that families are not coping."
Mr Linton said the foodbank was looking for non-perishable goods such as tins of fruit, vegetables, fish and meat as well as UHT milk and biscuits.
He added that collection points would be open at Asda at Kirkton and Milton of Craigie tomorrow and on Saturday, between 10am-4pm on both days.
"We have worked out that if everyone who shopped at these stores during the two days donated only one item each we could collect about three or four tonnes of food," he said.
"This would make a huge difference to our supplies in the short term.
"It would also start off our stocks for the winter.
"We want to be able to provide a healthy and balanced stock of food and we rely on the generosity of people throughout Dundee who have always been very good at providing us with what we need."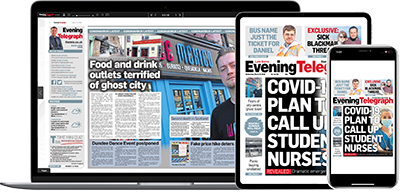 Help support quality local journalism … become a digital subscriber to the Evening Telegraph
Subscribe