It's a fact of life that every month millions of women around the globe have to deal with "the curse" of their period.
At best it can be inconvenient and at worse it can be excruciatingly painful and have a significant impact on day-to-day life.
And it causes enough problems without the added panic of finding the money to buy the necessary sanitary products.
Period poverty is now recognised as being a real problem, with thousands of women – including many in Dundee and across Tayside – having to use items such as socks, newspapers and rags to cope with their period.
That's why food waste charity FareShare Dundee has launched a scheme to make sure no woman has to face the embarrassment of being caught with no period protection when needed.
Amanda O'Connell, the organisation's community development worker for sanitary protection, said it had been supplying free sanitary products in Dundee since last December.
She said: "We are based in Dundee but cover the whole of Tayside and Fife.
"We are already supplying sanitary products to 90 local organisations with almost 4,000 women and girls benefitting each month.
"This number is increasing constantly as we continue to partner many new organisations.
"We are reaching a wide variety including foodbanks, job clubs, family support services, youth groups and homeless services.
"We are also soon to begin delivering training and educations workshops throughout the region regarding period poverty."
Amanda said that as well as providing practical support, the group also aims to raise awareness of the issues.
She said: "It's about giving women their dignity.
"We want to break down taboos and reduce stigma associated with period poverty and work with women and learn from their experiences of period poverty.
"Women shouldn't have to make a choice between feeding their family and buying themselves sanitary protection.
"They shouldn't have to stay at home during their period because they are frightened to go out because of leakage."
Amanda said she had heard stories about women using anything they had to hand to deal with their period, including socks, rags and even newspaper.
"We want to make sanitary products as easily accessible as possible and we want to end the embarrassment many women face if they have to ask for products." she said.
"We're also reaching out to men as we want them to feel comfortable picking up products for their daughters, wives and sisters or whoever the women in their lives are."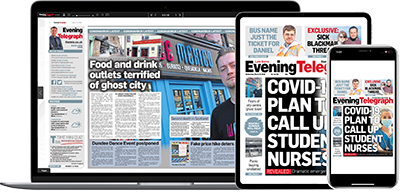 Help support quality local journalism … become a digital subscriber to the Evening Telegraph
Subscribe